OKI "Feniks" Kikinda - News
Szeged, III Verba László International Tournament 2009
III Verba László emléktorna, nemzetközi ülöröplabda kupa
Szeged, Hungary, 05-06th of September 2009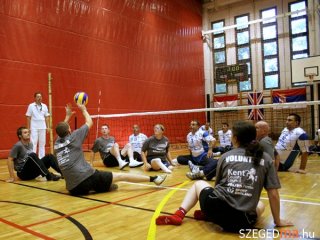 More info in Hungarian language...
KSO "FENIKS" team participated to a big international sitting volleyball tournament on 05-06th of September 2009 in city of Szeged. This very strong tournament was also participated by representations of Republic Serbia and Hungary, teams from Hungary, Republic of Srpska and Great Britain.
After being defeated by host team "Csakaszert SE", "Sprint" from Szombathely and representation of Serbia (the winner of this tournament), we won the match vs team "Partnership" from England and so finished tournament placed as seventh.
Players
For this occasion our team was enforced with five players from Belgrade, so this was our lineup:
1. Đuričin Dragoslav, KSO "FENIKS"
2. Brandić Dragiša, KSO "FENIKS"
3. Šibul Ivan, KSO "FENIKS"
4. Milošev Nikola, KSO "FENIKS"
5. Marić Mile, KSO "FENIKS"
6. Zavišin Zoran, KSO "FENIKS"
7. Anđelov Željko, KSO "FENIKS"
8. Maksimović Vilijam, KSO "SMEČ"
9. Savić Željko, KSO "SMEČ"
10. Aleksić Milorad, KSO "SMEČ"
11. *******
12. *******
* Dragin Branislav, coach
Photos from tournament