OKI "Feniks" Kikinda - News
Qualification tournament for the Cup of Republic Srpska
Bijeljina, 7th November 2010.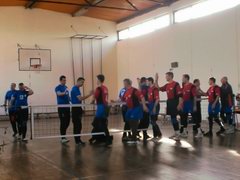 Place of the tournament: sports hall of elementary school "Jovan Dučić"
In this year's Cup of the Republic Srpska has 12 participating national teams and two teams from the Republic of Serbia.
The teams were divided into four qualifying groups. It was determined that the KSO Feniks plays it's matches with the 3rd group in Bijeljina:
GROUP 1 – Banja Luka
1. OKI "Prijedor"
2. OKI "Kneževo"
3. OKI "Banja Luka" - domaćin i tehnički organizator
GROUP 2 – Doboj
1. KSO "Krajišnik"
2. OKI "Derventa"
3. OKI "Doboj" - domaćin i tehnički organizator
4. KSO "Smeč"
GROUP 3 – Bijeljina
1. OKI "Veteran" (Derventa)
2. IOK "Borac" (Banja Luka)
3. OKI "Semberija" (Bijeljina) - domaćin i tehnički organizator
4. KSO "Feniks" (Kikinda)
GROUP 4 – Laktaši
1. OKI "Maglić"
2. OKI "Kozara"
3. OKI "Laktaši" - domaćin i tehnički organizator
Schedule is as follows:
Round 1: 1:4, 2:3
Round 2: 3:4, 1:2
Round 3: 4:2, 3:1
Unfortunately, team from Derventa did not come in Bijeljina. We are not quite clear what problems plague that club, but this way we had no opponents in the first game. Further, all games were registered with 3:0 (75:0) in favor of the OKI "Veteran" opponents.
Thus the first match played was "Semberija" against "Borac". That was a duel of two teams front-runners for winning the first place and qualifying to the Cup finals tournament.
Team from Banja Luka won this very tensed match, although final result of 3:0 does not show it. According to opinion of many in audience, next two matches (where we played) were characterized as "a routine" and "with the known result in advance".
The result of our defeat from "Semberija" only partially confirmed it, although we reached a play worthy of opposing to superior rival, more and more as match was developing.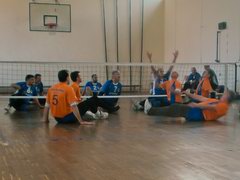 The third match was for the aforementioned predictors enacted a series of surprises. Feniks players were inspired and shown extremely combative performance in the field and so we reached the set advantage of 2:0! Had we continued such play, the pass into the Cup finals would be decided by points ratio. However, the crisis of our play has arrived at the worst possible moment and the next set was lost extremly fast. The Fourth set brought us back a very good play, the teams have alternated in the lead during the set, but in the key moments we had no presence of luck and calmness to complete this set and match in our favor. Here we failed to win one of three match points!
Even on the change of court sides in the 5th set we had two points advantage, but, in the end, experienced Banja Luka team did not miss a chance to win.
Here we will remind our readers: it was a duel of those same two teams who played the game in the Kikinda Cup some six months ago, when both sets were completed very much alike the 3rd set described above.
So, despite of two defeats on the field (and one imaginary victory), we returned to Kikinda satisfied with tremendous progress in the our play and fight on equal level against undisputedly much stronger opponents.
Results
| | |
| --- | --- |
| | |
| Borac : Semberija | 3:0 (25:21, 26:24, 25:23 / total 76:68) |
| Semberija : Feniks | 3:0 (25:14, 25:21, 25:22 / total 75:57) |
| Feniks : "Borac" | 2:3 (25:23, 25:23, 11:25, 27:29, 12:15 / total 100:115) |
| | |
At the resting place on the road to Bijeljina...
Photos from tournament