OKI "Feniks" Kikinda - News
IX International Tournament "Banja Luka Open 2010"
Banja Luka, 4th December 2010
Planned big tournament with ten or even twelve teams, unfortunately, did not take place. Good will and efforts of our hosts were not enough to predict the last minute cancellation by some invited teams.
So the tournament was held as one-day only and there were six teams fighting for the winning trophy this year.
Groups were as follows:
GROUP A

1. OKI "BANJA LUKA", Banja Luka, R. Srpska
2. KSO "FENIKS", Kikinda, Serbia
3. SDI "HRABRI", Zagreb, Croatia

GRUOP B

1. IOK "ZAVIDOVIĆI", Zavidovići, FBiH
2. POLAND, representation
3. OKI "KNEŽEVO", Kneževo, R. Srpska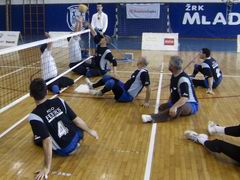 Matches were played in elementary school gymnasium "Borislav Stankovic", in the part of town which the older inhabitants call Budžak.
According to the tournament propositions games within the group, as well as the semi-finals, were played in two sets obtained and the final and the match for the third place were played in three sets obtained.
Results - Group A
KSO "FENIKS" - SDI "HRABRI" 2:0
OKI "B.LUKA" - KSO "FENIKS" 2:0
SDI "HRABRI" - OKI "BANJA LUKA" 0:2
Score list - Group A
A1. OKI "BANJA LUKA" 4
A2. KSO "FENIKS" 2
A3. SDI "HRABRI" 0
Previous experience against Hrabri (The Braves) have so far been bitter, but we were aware that we are now sufficiently "grown enough" to start pay back to them the debt from last year's Sarajevo Open and Banja Luka Open.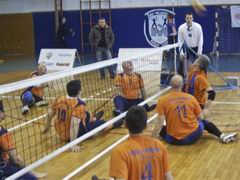 A game of sitting basketball did the job for our warming up for the first game, as this one is always critical. Almost throughout all the match Feniks had the advantage of a few points, but guys from Zagreb were skillful and dangerous whenever our concentration abated. Our coach easily backed us on the track by placing timeouts and substitutions and we finally scored the result we wished for.
The history says that we charged them only for the half the "debt", because the inter-score after this match is 2:1 for the Braves. So, "We do follow our dreams" and we are growing with these.
The match against the host team only confirmed the balance of power. No one can say that we did not make efforts and we did not want some more than the maximum loss, but simply our opponent always had a surprise or ace up in the sleeve.
Results - Group B
POLAND - OKI "KNEŽEVO" 2:1
IOK "ZAVIDOVIĆI" - POLJSKA 2:0
OKI "KNEŽEVO" - IOK "ZAVIDOVIĆI" 0:2
Score list - Group B
B1. IOK "ZAVIDOVIĆI" 4
B2. POLAND 2
B3. OKI "KNEŽEVO" 1
Semifinals
After tournament official opening, competition continued with semifinals:
A1 – B2 OKI "BANJA LUKA" - POLAND 2:0
B1 – A2 IOK "ZAVIDOVIĆI" - KSO "FENIKS" 2:0
The comment of this match could almost be alike the previous one. This team beat us superiorly by very well organized play in field, strong play on the net, and probably the strongest block on this tournament.
Match for the 5th place:
SDI "HRABRI" - OKI "KNEŽEVO" 0:2
Match for the 3rd place:
KSO "FENIKS" : POLJSKA 0:3
We entered the match versus Poland emotionaly emptied after long desired win and two conviciable defeats, tired and with various health problems of our players. This is not complaining, but it was not easy to overcome all these cases at once. We had: one catch of cold with high body temperature, one simple flew, one diarea, one pain in the back, one headache, one toothache, and some light finger and elbow injuries earned in previous matches. Until now for us unknown competitor had some other problems: they played all matches having only six players, without substitutions, without a coach, with one set more played than us.
We started quite good and the result was changing like on a seesaw until the middle of the first set. Then was lost a big row of points and the first set was lost. In the second set we didn't succseed to composure. We continued in the same stile, so our opponent used every opportunity, just opposite compared to us. We played the third set like we just started the game, from the very beginning, and again we shown very good play. We missed the first set point, Poland equalised and reached the next points in two easy steps for deserved win.
We might say that our play quality was technicaly somwhere in the same level of our opponents, but they were in much better condition and more ready for play.
The final match for the 1st place:
IOK "ZAVIDOVIĆI" : OKI "BANJA LUKA" 0:3
According to participants, the final match was the copy of the last year's final, although hosts from Banja Luka succeeded to win in only three sets. One could say it was easier than expected. Not considering this fact, this match was very interesting, strong and quality game of two big, equal rivals. Yet, hosts shown that they are better this year, too.
Awarding ceremony was held in the restoran of "Golden Card" motel and the lunch for all tournament participants followed. During this ceremony thr hosts ceased the opportunity to consign us written invitation for the next year's 10th jubilee tournament.
Simply said - there was no Feniks member who was not honestly cheered by this.
Players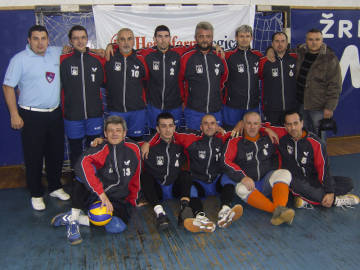 Standing: Milić (referee), Golijanin, Budurin, Janjatović, Duričin, Marić, Dragin (coach), Ibrajter (our driver)
Sitting: Zavišin, Brandić, Herceg, Setorić, Anđelov
Photos from tournament