OKI "Feniks" Kikinda - News
Hungarian Cup, 5th March 2011,
Budapest, Sport hall Törekvés
As announced, on 5th March KSO "Feniks" participated in qualifications for Hungarian Cup 2011. According to placement, two teams will continue this competition in final-four in Debrecen, on 10th and 11th March.
In group A competed 1st, 2nd and 7th placed teams from the Championship, accompanyied with women's national team of Hungary, which hosted this first stage of the Cup.
Group A
Piremon SE (Nyíregyháza)
Sprint SC (Szombathely)
Hamburger SE (Nagykanizsa)
Törekvés SE (Budapest)
In group B competed teams placed from 3rd to 6th place in the Championship. Thus, matches in our, B group, had much uncertain results.
Group B
Mozdulj SE (Vác)
Feniks KSO (Kikinda)
Humanitás SE (Tatabánya)
Csakazért SE (Szeged)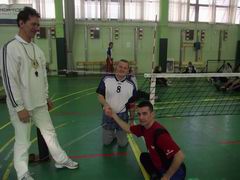 To pass to the next phase would probably be enough to overcome two teams that we were winning usually.
Humanitás is our angry "opponent with the measure". There have been no match played against them that was not played in the maximum possible number of sets and still we were coming out as winners for a bit.
Almost again, but this time it did not happen. Tatabanya guys succeeded at last to turn their defeat into a victory, in spite of our match point.
Humanitas SE - Feniks KSO 3:2 (25:22, 17:25, 30:32, 25:21, 16:14)
- Loss in the first game more or less meant the loss of hope for favorable placement, but Szeged guys were those who had the least chance inside this group, at least on paper.
Victories over Feniks and Humanitás, however, they succeded. Szeged is a large city, with a large base of players, and frequently appears with a team that does not even resemble the one from the previous contest. Their team was well incorporated, stable, and withstood two severe and unpredictable games and advanced as the second in the group for the final-four. We seemed to had lack of self-confidence to seize this chance and to come out as winners. Simple - they were better this time and we congratulate them in sport manner.
Feniks KSO - Csakazért SE 1:3 (19:25, 25:22, 19:25, 24:26)
Here is hard not to mention the absence of ®eljko Anđelov, one of the pillars of our team. Nuance that was missing for victory in these two games may lies right here. Upon the recommendation of doctors and unfortunately, his absence will be such that we have to get used to it. We wish him a good health and fast recovery.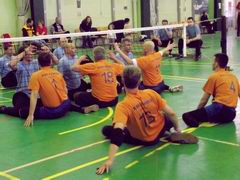 A double major disappointment was followed by game against objectively the strongest opponent, Mozdulj. There was no help for us.
Mozdulj SE - Feniks KSO 3:0 (25:18, 25:15, 25:14)
- In the end we played a game for the seventh place in the Cup against, also the fourth team in Group A. Easy win against Hungarian woman national team made us on the comforting 7th place.
Törekvés SE - Feniks KSO 0:3 (6:25, 5:25, 16:25)
All results can be followed at: http://www.uloroplabda.hu (Hungarian only).
Players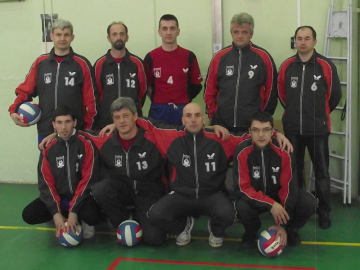 Standing: Marić, Selak, Brandić, Đuričin, trener Dragin
Squatting: Janjatović, Zaviąin, Herceg, Golijanin
Photos from tournament