OKI "Feniks" Kikinda - News
Championship of Vojvodina
in sitting volleyball for disabled
Bačka Palanka, Sept. 14th, 2013
On Saturday, September 14th, there was the "Championship of Vojvodina in sitting volleyball for disabled" in Bačka Palanka. For the "Sport Society for Disabled of Kikinda" (SDI Kikinda) performed players from OKI Feniks.
I deliberately say "players from OKI Feniks" because it involved only those who meet the disability criteria for this competition and because they have performed for the SDI Kikinda, not as a club. So, the text was sent to media in that manner, but there appeared following text: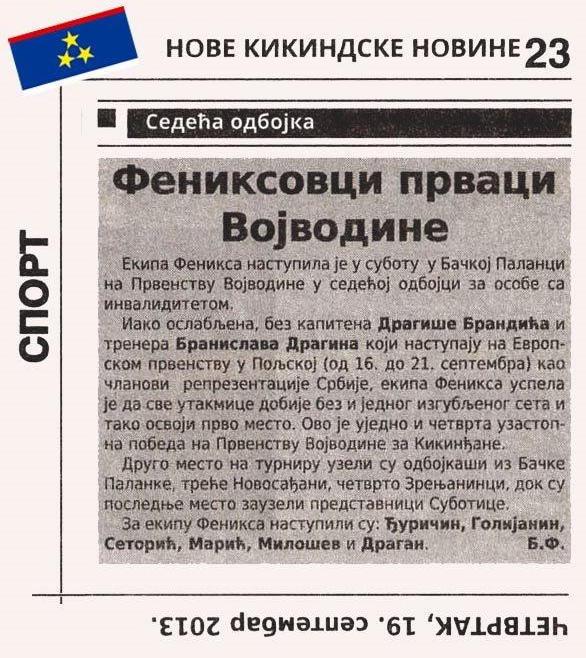 The mistake is not the big one, but it is the matter of the principle! That's the only reason I'm referencing to this detail. Our habbit is not to "decorate ourselves with others feathers", but we are transfering informations as they really are. The fact that there were no other members of the "SDI Kikinda" except the Feniks team players, is completely different question and certainly is not to be sent to our address. Additional note is that ONLY on the 1st Vojvodina championship in year 2010 non-disabled players were allowed to take a part.
As for placement, there were no doubts or errors: Kikinda guys are the championship of Vojvodina, the fourth time in a row, safe, superior, unrivaled.
All four games have ended in their favor, winning in straight sets, again in first place, again defended the title.
Final ranking of the "Championship of Vojvodina for the disabled":

1. Kikinda
2. Bačka Palanka
3. Novi Sad
4. Zrenjanin
5. Subotica

We are pleased to have a long stick to the continuity of our play. This success is even greater when we know that the captain and the coach were absent due to national team duties (the European Championshiop in Elblag, Poland). Slight disappointment of tournament was very poor appearance of Subotica, and on the other hand, Novi Sad pleasantly surprised with the breakthrough to the third place.
Guys from SDI Kikinda, the 4th time consecutive Champions of Vojvodina: Đuričin, Golijanin, Setorić, Marić, Milošev and Dragan.