OKI "Feniks" Kikinda - News
League of the Republic of Hungary in sitting volleyball
(Tesco Ülőröplabda Magyar Bajnokság 2013/14)
Play off, 3rd round, May 18th, 2014, Törekvés, Budapest, Hungary
The end of Bajnokság, the third and final round of Play-off, eight teams of the Upper and the Lower Dome, all together in Budapest. Very difficult, interesting and in the end, even comical.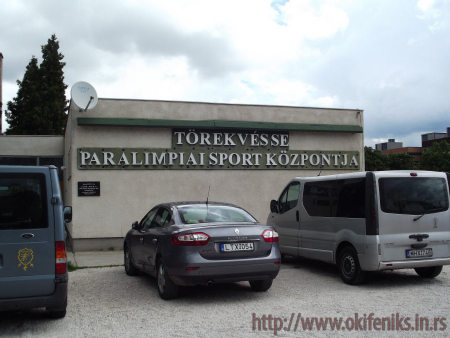 The first and last teams in the two divisions were sealed prior to this round and uncertainty existed in the middles of the tables or if you prefer - in the battle for the 2nd and the 6th place.
That was reason enough to leave an organizer for the end of the match that decides on the 2nd place. However, ...
The Upper Division (May 18th, Budapest)

1) Sprint SC - Mozdulj SE         3:1 (20:25, 25:18, 25:19, 25:17)

... "Anemic" Mozdulj release of the first game led to their first defeat in the championship. (Editorial ethics doesn't allow me to elaborate further on this score, and so I will leave it at this conclusion.) This result significantly complicated the situation of the Feniks.

2) OKI Feniks - Csakazért SE      3:0 (25:16, 25:14, 25:17)

Match was played confidently, the result was as expected.

3) Mozdulj SE - OKI Feniks        3:2 (18:25, 22:25, 25:20, 25:23, 15:12)

Caused by mentioned outcome of the first game, to win the second place we ought to win Mozdulj. What was the most beautiful, we almost succeed it.
We had the game and a lead of 2:0 in sets. I would describe the loss of the next set as a decline in our game. It's just one small series points of opponents in the finals became unattainable. In the fourth and fifth set was equal again, but it seems to us after six consecutive sets we played, we ran out of strength and concentration.

4) Sprint SC - Csakazért SE       3:0 (25:11, 25:10, 25:9)
5) Mozdulj SE - Csakazért SE      3:0 (25:18, 25:20, 25:15)
6) OKI Feniks - Sprint SC         3:2 (18:25, 26:24, 24:26, 25:22, 15:9)

The game we played against Sprint was for prestige, for defiance and as an investment in future games, although even before this matches the order was known. First of all well-deserved victory and one more reason to leave the field with our head up.
Three matches, 13 sets and 6 points won. Unfortunately, that was enough for bronze only.
SCORE – "Tesco Ülőröplabda Magyar Bajnokság 2013/14"

                                points
1. Mozdulj SE (Vác)               43
2. Sprint SC (Szombathely)        34
3. OKI Feniks (Kikinda)           31
4. Csakazért SE (Szeged)          11

5. Humanitás SE (Tatabánya)       36
6. Hamburger SE (Nagykanizsa)     16
7. Halassy Olivér SC (Budapest)   15
8. Mađarska ľen. reprezentacija    6

All results and a complete table can be found here.
Lower division, (May 18th, Budapest)
For the 6th place were fighting HOSC and Hamburger, and something extraordinary happened. The Hamburger failed to win (on the field) a single set in four mutual matches versus HOSC, but in the final table they found themselves in front of HOSC by one point. If you like to explore that some deeper, you can use mentioned .pdf file with all the results and table, as well as a bunch of photos and videos of the last tournament of the lower division. The joy is only yours.
For this occasion we will edit just some of the photos we made by ourselves.
There is nothing new to say about refereeing collegium, but exactly that is the cause they worth few frames.
Now we can get back to the final observation in the subtitle. András Mihályi, as the main competition organizer awarded teams with medals and certificates. It seems that he accepted very much emotionally all the events during the day, so we shared a silver medal... At first moment he didn't realize where he went wrong.
That mistake was quickly corrected and the Feniks was awarded with another bronze in Hungary.


Standing: Miloąev, Brandić, Vlajkov, Mihaljčić, Đuričin and Zaviąin.
Squating: Dragan, Golijanin, Anđelov i Budurin.
Our coach, Dragin Branislav, couldn't travel with us this time.
News were transfered by "Kikindske" newspapers, both Cyrillic an Latin.
Look for news on the official website of Hungarian (sitting) Volleyball Association.