OKI "Feniks" Kikinda - News
5th international tournament
"Kikinda CUP 2014"
sport hall SC "Jezero", Kikinda, September 6th, 2014
We announced the tournament for the May, but the catastrophic floods endangered many of our guests. That is why we, in accordance with the recommendation of the Ministry of Youth and Sports, postponed it for this date in September.
We appreciate all the efforts that those players and teams have invested yet to come in the new term and we fully understand those who have, however, given up on arrival. Nevertheless, we are proud of this certainly the most important event and the best tournament in sitting volleyball in Serbia this year.
This time the tournament was organized with the participation of six teams, which is probably the optimum in many respects. Somehow in the last decent moment gave up of arrival a team of heavy caliber. This team from the Premier League, for which all but reaching the final would be a failure, we were forced to have to replace. After several unsuccessful attempts of not giving up on quality, the time was lost and we were forced to carry out the replacement with the very modest team from B.Palanka. Every new search for the better solution in that moment was uncertain and completeness of the tournament would be brought into a question.
It has led to a correction in the plan of competition. Unlike previous tournaments, even final was played in the two sets obtained, but we provided everyone with the opportunity for placement by inserting crossings (A1-B2, B1-A2) after a group phase. Additional games in such conditions was the additional burden, but we assumed that it would not be overwhelming.
Again at the opening was with us the famous volleyball player, Vasa Mijić. He didn't tried to hide his excitment about the sport, about the energy and enthusiasm of a hosts for such an organization, regardless of the tough times and the undeniable problems. He welcomed all present audience with the words of sincere support and officially opened the tournament.
Results
Phase among groups:
Terrain A

1. OKI Feniks - OKI Serva           2:0

Note: This game was the only one played on three sets obtained. We took the opportunity to play this game as a part of the Serbian Championship. Thus, the 3:0 (12, 10, 8).

 2. R.Srpska - OKI Serva         2:0
 

 3. R.Srpska - OKI Feniks        2:0
 
Terrain B

1. Mozdulj SE - KSO Iskra       0:2


2. Srbija - Mozdulj SE          2:0


3. KSO Iskra - Srbija           2:1

Crossings:

Terrain A, 4. /A1 - B2/ R.Srpska - Serbia       0:2


Terrain B, 4. /B1 - A2/ KSO Iskra - OKI Feniks  2:0

Matches for placements:

Terrain B, 5. /5th/ OKI Serva - Mozdulj SE  0:2


Terrain A, 5. /3rd/ R.Srpska - OKI Feniks   2:0


Terrain A, 6. /FINAL/ KSO Iskra - Serbia    2:1

So, in the finals were winners of the Kikinda Cup from years 2012 and 2013. The winner was the team KSO "Iskra" by the result 2:1 and thus defended the Championship title they won last year. KSO "Iskra" is considerably enhanced this season with several representatives of Bosnia and Herzegovina, the gold medal winners at the Paralympic Games. President of Iskra, Mr.Aziz Dlakić, was delighted by organization of this and previous tournament in Kikinda and so he awarded the president of the Feniks with a special plaque to confirm the friendship of two clubs.
Serbia national team coach, Dragan Jokić, said that he creates a new, rejuvenated team for the European Championship next year. Among these boys is one guy from Kikinda. He noted that the team played four very tough matches in this tournament, which is very very important for the preparatory period.
Vasa Mijić said:
"I knew almost nothing about this sport until a few years ago when I came to tournament in Kikinda, and it really looks great. Today I watched a couple of very interesting and tense game, and one of them was a match between the teams Feniks and R.Srpska. For me Kikinda team was a very pleasant surprise, they played the tied game with them and had a good chance of winning."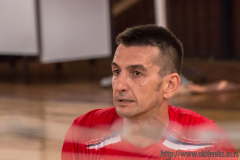 At this tournament our captain Dragiša Brandić played for the national team of Serbia and it impresses him and us, too, but on the other hand we regret that he could not help Feniks to achieve a little better placement. However, we should be realistic, as in this competition really isn't a shame to be defeated. We have provided a very good game, we left a great impression in front of our home crowd and we encouraged ourselves for the upcoming start of the Hungarian Championship, which starts in three weeks.
Final standings:

1. KSO "Iskra", Bugojno, BiH
2. Reprezentacija Srbije
3. Reprezentacija R. Srpske
4. OKI "Feniks", Kikinda
5. SE "Mozdulj", Vác, Mađarska
6. OKI "Serva", Bačka Palanka

The members of the refereeing colegium were from Hungary, the Republic Srpska and local referees from UOSO Kikinda.
Many thanks goes to everyone who helped us to organize tournament in the best possible way:
Regional secretariat for the youth and sports, Municipality of Kikinda, Culture center Kikinda, Commercial bank, gallery Terra, Delta foundation, ASA Kikinda, Mr. Ilija Rajić, butchery Čoka, VSV Tatić, Refereeing union Kikinda, Jozsi & Ili, Destilery Hubert 1924, Mr. Vasa Mijić, Independent Union MSK, volonteers – Jelena, Loša, Zoran, Neša, Peđa, Bule and Dragan Grbić - Grba & Vladan Aleksić - Valex.
Thanks to the last two guys we have a huge gallery of great photos they made. They made a selection of these for you to see on this webpage as well. This has saved me a good deal of work on describing events. There is no point to waste words, as these pictures speak much more than I can describe.
Until the next meeting in Kikinda!
Media are rarely reporting our events with the full page, but indeed this Tournament deserved it!
Our neighbour Dr. Zoran Golušin made a report about the tournament for the Radio NS, and we just transfered it for playing it on YouTube.
And the other media write about the tournament:
Bugojno info portal
Bugojno sport
Kikindske
hunvolley.hu
Suština pasijansa
Finally, let's have a peek into the dinner party after the tournament...