OKI "Feniks" Kikinda - News
7th International sitting volleyball tournament
"Bugojno Open 2015"
Sport hall Bugojno, May 23rd, 2015
Bugojno open was held for the seventh time as a part of events to mark the May 20th, the day of Bugojno Municipality. Participants were three teams from BiH and one from each of the Republic of Srpska, the Republic of Croatia and the Republic of Serbia.
The hosts like to change the list of participants, but our team became rare regular guest of this tournament since year 2012 and onwards. Most of the other coordinates were known: it is usually a very strong tournament, it is certainly our longest common trip, accomodation and closing ceremony are provided in a pleasant motel Heko (with one strange detail), referees are known, it will be played on one terrain in Bugojno cold sport hall, but the hospitality and a coffee were realy hot, Bosnian.
From the opening ceremony:
Schedule of matches was according bulletin: bilten_bugojno_open_2015.pdf
Results:

1. OKI Feniks - IOK Maglaj-Index        0:2 (18:25, 22:25)

The first match inside the group we lost to the team from Maglaj (0: 2). We succumbed to our inexperience on hastening to get the game started. I really don't want to speculate what would happen if we were able to get a decent warm up before the game, but I guess we wouldn't went to the first time-out on 1:7 result. After that we played point-for-point.

2. OKI Split - OKI Vitez                0:2 (15:25, 15:25)
3. OKI Feniks - OKI Laktaši             2:1 (19:25, 25:23, 15:12)

Our desire to play and to prove ourselves helped us to persist after the defeat in the first match and after losing the first set in this game. With the victory over the team Laktaši we took the second place in the group and so we were still struggling for final placement.

4. OKI Vitez - KSO Iskra                0:2 (23:25, 17:25)
5. OKI Split - KSO Iskra                0:2 (16:25, 15:25)
6. IOK Maglaj-Index - OKI Laktaši       2:0 (25:13, 25:21)

For the 5th place:

OKI Split - OKI Laktaši                 2:0 (25:23, 25:12)

For the 3rd place:

OKI Feniks - KSO Vitez                  2:1 (17:25, 25:18, 15:13)

In the match for third place, we faced with the team from town of Vitez. This team is also a member of the 1st league of BiH, it has consisted of several former players from the Premier League, and even of the player from BiH national team who won a golden medal at Paraolimpics three years ago. The outcome of this match for many attendees was known in advance, but we did not give in easily, even after losing the first set. We surprised our opponents in the second set with a hard struggle and we striked back. In the third set we managed to maintain the same level of play and a few points of advantage gained at the start of the set, and so to considerably win much experienced team Vitez.
Perhaps it was fortunate that we find out these facts about our opponent after this game. In our past three participations in this tournament we were happy if we managed to play well and to resist the superior opponents. This is the first time that we have entered into the struggle for placement and luckily, we seized it in the best possible way. I must admit that even this time we were not hoping for some success, but not for one moment we didn't give up and, well, it was worth it.
We were defeated in the first game, in the second against Laktaši we lost the first set and we were able to turn the match in his favor, and in game for the placement the scenario was the same. Because of these facts bronze medal and the third place in this tournament are particularly preciouss to us. This is the first medal we won in BiH, the first one with a blue and yellow ribbon. It should be said that we were left incomplete for objective reasons, so the "reservists" Setorić, Budurin and Marić took over the role of absent players and excellently earned this ranking together with 1st team players.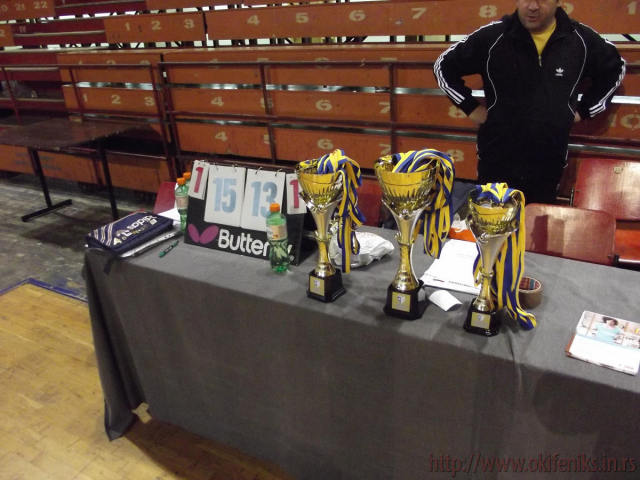 By the way, we accomplish our placement by the hardest possible way. Only the final was played on three sets obtained, but nevertheless we played the biggest number of sets.
Finale:

KSO Iskra - IOK Maglaj-Index    3:0 (25:15, 26:24, 25:22)

Our host KSO Iskra, now definitely back to Premier League of BiH, je očekivano završio turnir na prvom mestu. Oni su u finalnoj utakmici savladali svog prvoligaškog konkurenta iz Maglaja.
Placement on 7th international tournament Bugojno open 2015

1. KSO Iskra, Bugojno
2. IOK Maglaj-Index, Maglaj
3. OKI Feniks, Kikinda
4. KSO Vitez, Vitez
5. OKI Split, Split
6. OKI Laktaši, Laktaši

Feniks players in Bugojno were: Brandić, Budurin, Đuričin, Marić, Mihaljčić, Milošev, Setorić i Zavišin.
Awarding trophies and medals:
A borrowed photo, the shelf of KSO Iskra: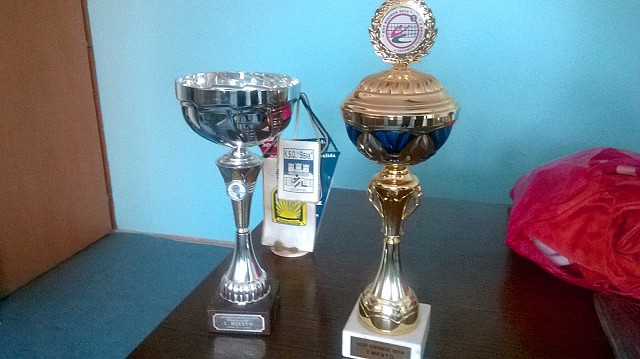 From the media: