OKI "Feniks" Kikinda - News
6th international tournament "Kikinda CUP 2015"
Sport hall SC "Jezero", Kikinda, September 5th, 2015
This is the news page No.100 at the OKI Feniks website!
"Kikinda Cup" is traditional international invitational tournament in sitting volleyball. There is no doubt this is our event of the season and that is why we pay special attention to its organization.
The special attention means that already in the previous evening everything suppose to be set: the guests are greeted, we ensured they got a decent residence, we set terrains and all equipment to make sure that tomorrow everything will be according to the plan and in order. On the day of the event some details can be resolved on the fly, but now we can say that we have some experiences.
Serbian national team arrived earlier in Kikinda, so the guys held few training sessions in school Vuk Karadžić. These are the thumbnails from the last one before tournament.
As usualy, in the morning we were lined up and started with the anthem of the Republic of Serbia and we said a few words about the tournament, teams and judges.
"Kikinda Cup was first organized in the year 2009. Since then, the Kikinda CUP was attended by teams from the Federation of Bosnia and Herzegovina, Republic of Srpska, Hungary, Croatia, Poland and, of course, from Serbia, but unfortunately our modest possibilities have not been allowed to accept applications of teams from Egypt, Kenya and Ukraine. Management of our team is constantly working on a progress of the club and the tournament, and we believe that it is not merely bragging when we say that this is the best tournament of this Paralympic sport in Serbia. During the 7 years of existence we have seen in Kikinda national teams of Serbia, Hungary, Republic of Srpska and Poland, followed by teams from the Premier league, than top 4 teams from the Hungarian championshipand or even 5 including us, Champions from Super league of R.Srpska, as well as other strong teams."
We've invited our dear friends in the region, and we didn't wait a bit to their positive answers. Such cordiality and directness has given us the right to introduce teams exclusively from our perspective, that is to point out the main threads that connect hosts and guests, and so we have done during the opening ceremony.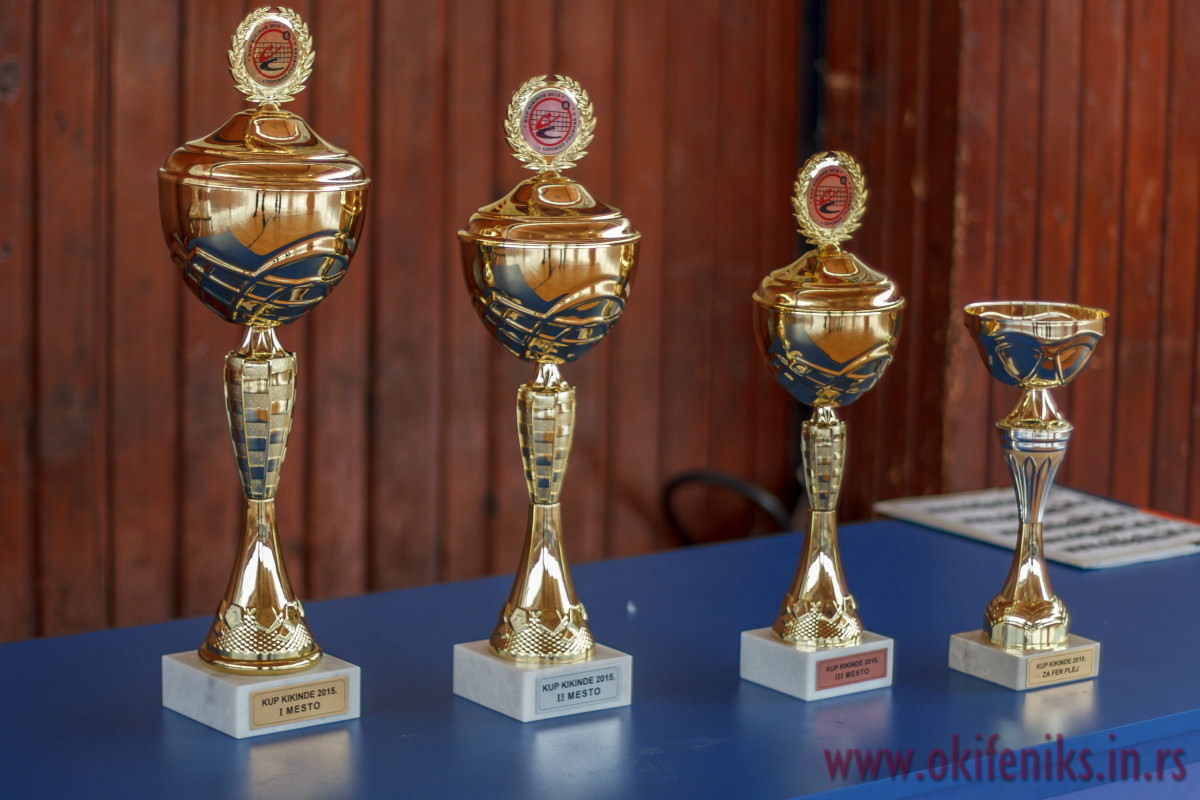 Before we begin with a quotation at the opening, it is worth of mentioning the help of our friends did the job this time, too. These journalists of Radio Kikinda took on the role of a host and thereby have proved very professionally, as a well-established team.
1. this team is the conqueror of the 5th place at the European Championship in 2009. OKI Feniks they proudly borrowed them their most valuable members, the coach and the team captain: the National Team of Serbia!
2. The team regrouped in April 2013, after several years of disarray and OKI Feniks was honored to be elected sparring partner in the game which has updated its gathering. The above-mentioned match was played in Budapest, and this team is today in Kikinda: Representation of Hungary!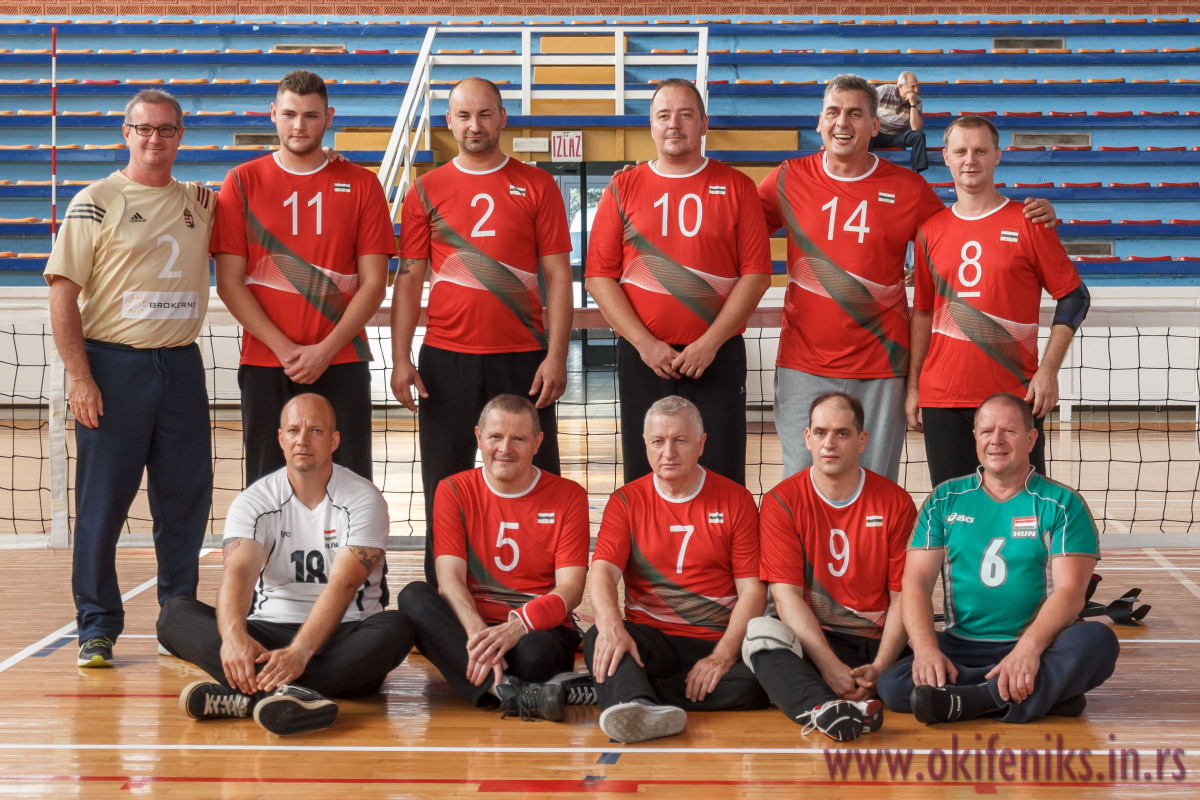 PS As far we figured, diligent Fruzsi is leaving the team after this tournament.
3. There is nothing new to say about the Premier League and the national team of the Federation of BiH, they won gold medals wherever they occur. We have established excellent friendly relations in the first contactith with the club from that environment, on the first ball. Since then mutually we don't miss invitations to the tournaments. A member of the Premier League and the winner of the two previous Kikinda CUPs: KSO "Iskra" from Bugojno!
4. Last year's top rival of Iskra in the First League. We met these guys first time right in Bugojno last year, and it turned out that we suffered of them the only defeat in these three matches. Here the hosts have the chance for a revenge. First time with us: KSO "Maglaj-Index" from Maglaj.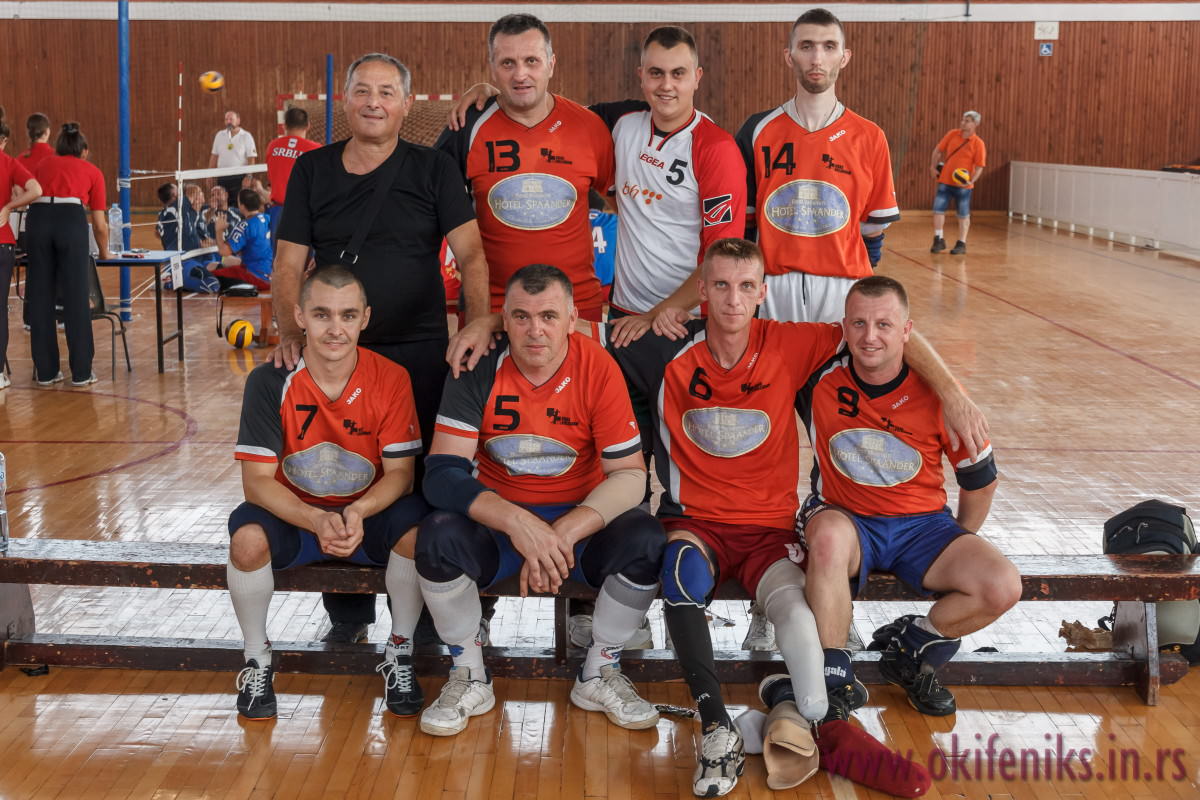 5. The youngest club in Serbia, the club that flew well, currently in 3rd place in the Serbian League, they are excellent hosts. The only team that Feniks has managed to take one point at all events in Serbia in the last four years. Also, for the first time in Kikinda: KSO "Kragujevac" from Kragujevac.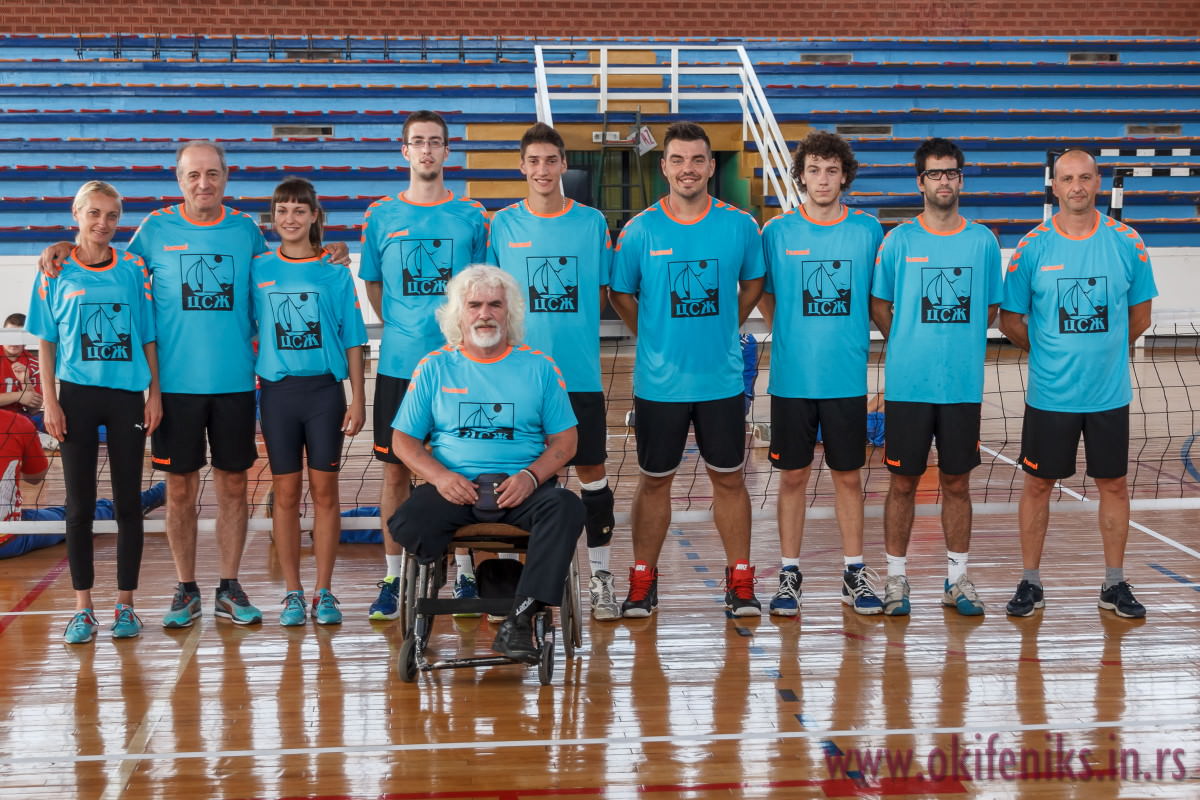 6. At the end of the current is the champion of Serbia and Vojvodina, and the second placed club in Hungarian Cup and Championships, today's hosts: OKI "Feniks", Kikinda.
During the presentation of guests they were gifted with the T-shirts provided by the "FCC evironment", than gallery "Terra" donated them with cute mammoth figures made in terracotta, a "Distillery Hubert 1924" donated their attractive gift products.
Our dear guests said few word to all competitors, they wished them a pleasant stay in Kikinda, a lot of fun, good games and a fair fight:
the man to whom we owe immense gratitude as one of the founders of the Feniks, Mr. Milan Živić,
a member of the Municipal Council of the Municipality of Kikinda, Mr. Miodrag Bulajić, expressed his delight and promised that the municipality will continue with helping our tournament and our club and he shared modest gifts from the Municipality of Kikinda. He eventually opened the ceremony 6. Tournament "Kikinda Cup 2015."
the Olympic winner whom we all know, the man who after a brilliant career continues with all his heart in volleyball, our friend Mr. Vasa Mijić. This year we indebted for the promotion of the tournament. Of course, there are direct connections in this case as well, as the ones we already mentioned. In this year these connections became a quarter of century old.
Vasa is with us for the third time in Kikinda Cup, so we agreed to express our gratitude somewhat different: Vasa officially became an honorary member of the OKI Feniks. Unfortunately, we do not have any record of his words after recieving this gratitude. But, you can trust me that he was able to transfer his pleasant surprise and delight on to all present and to awake the healthiest emotions in all of us. He did it simply, honestly, sporty and with the right measure.
The referees of the tournament:
The Association of Volleyball Referees UOSOK Kikinda was founded a decade and a half ago by several current members of Feniks and now we are together in the Volleyball Federation of Kikinda. They are always with us, and their president is Milorad Šibul.
To ensure the fair refereeing and to ensure referees from Kikinda can "steal" some secrets of this craft, we called a "help from a friend". With us is the ECVD referee from Hungary, who has 35 years of experience in sitting volleyball. He is our great friend and a man who recognized our will and energy in our first steps, and by his authority in Hungarian Association, helped us to play in Hungarian national league, Mr. József Benkö.
A lady who always follows is unsurpassed scorer of Bajnokság (ie, the Hungarian championship) and Jožika's constant companion is here - Mrs. Gáborné Schödl.
Donors of the tournament:
The implementation of this tournament in general won't be possible if organization haven't been supported by many people of good will. For the provided assistance OKI Feniks thanks to the following institutions:
Regional secretariat for sport and youth,
Municipality of Kikinda,
Commercial bank,
FCC environment and Mr.Ilija Rajić,
Delta foundation,
Standalone union MSK,
Gallery Terra,
Cultural center Kikinda,
Destilery Hubert 1924,
Bakery Testoteka,
physiotherapist Mr.Dragan Trifunac,
SC "Jezero",
Vučković Borislav,
Dragan Grbić and
finally, our dear friends, volunteers.
Of course, special thanks always goes to our moms...
Before the start of the first match the competitors, referees, volunteers and guests gathered under the flags to make a traditional group photo.
Terrain A:

1. Srbia - Feniks         2:0
2. Maglaj - Serbia        0:2
3. Feniks - Maglaj        1:2

Terrain B:

4. Iskra - Kragujevčani   2:0
5. Hungary - Iskra        0:2
6. Kragujevčani - Hungary 0:2

A3 - B3, for the 5th place

7. Feniks - Kragujevčani    2:0

We provided a lot of solid performances, but in this competition we couldn't make it better. The opportunity for a rematch mentioned above we didn't sieze. At the end, the Kragujevčani were the only ones who left without a win, but full of impressions, new friends and a lot of new and significant experiences. The impression was that they just come here to the right experience, the living knowledge about the level of this sport out of Serbian First League. This is one of the most positive things that happened, because they have already begun to dream about their own tournament.
A1 - B2 - semifinals

8. Serbia - Hungary         2:0

A2 - B1 - semifinals

9. Maglaj - Iskra       0:2

For the 3rd place

10. Maglaj - Hungary        1:2

Hungary and Maglaj played one of the most uncertain matches. Just when it seemed that the Hungarians come to their best game, they ran out of power and the car they went downhill.
Finals:

11. Iskra - Serbia      2:1

Iskra deserved to win trophy for the third time. Serbian national team was an equal opponent to Bugojno in finals, but they simply failed. Match was decided by a minimal point difference, a feather at the opposite weighing pan. Already well known girl from Kragujevac made a recording of this great final, although rather poor and incomplete snapshot. Yet, thanks to her it is uploaded to YouTube, as well as some footage of her team.
Placement:

1. KSO Iskra
2. Serbia rep.
3. Hungary rep.
4. KSO Maglaj-Index
5. OKI Feniks
6. KSO Kragujevčani

The awards were given in the hall of the youth village SC "Jezero" with socializing and dinner. Joži handed us the badges with the emblem of Hungary. Gabor Vitez, captain of Hungary, handed us a bottle of the famous Tokaji wine. OKI Feniks expressed the particular gratitude to Mr.Ilija Rajić, representative of "FCC environment" as well as to our webmaster Grba, who is meritorious for all that is colorful in front of you and for something else.
Thank you all and see you next year.
News and impressions:
A small photo selection follows. Enjoy!