OKI "Feniks" Kikinda - News
Hungarian championship,
Tournament 2nd Round, 21st May 2011
Faithful visitors of this site are used to the fact that our plans are spoiled often. This year is in the lead about it, and this is one of the reasons why some information and their changes are not even published until the match is over or until we did double checking. So, in the future we will rather not inform you at all than give you wrong information.
Championship of Hungary was postponed before the first round started. They say - internal problems in the Hungarian alliance. A month after that we got the new Championship schedule for 2011. as a single round, so the new runoff Championship 2011/12. can start next autumn, with half-seasons halves in autumn & spring. All this has disrupted many plans.
1st round, Nyíregyháza, Hungary, 7th May 2011.
First round matches against Piremon and Mozdulj in Nyiregyhaza we lost by - not arrivig there, due to the failure of the van. Objectively, in a match against perfect team of Piremon, to win a set would be a success. For the match against last year's third-placed Mozdulj from Vac belief in the success was much higher, although they have a very good team.
2nd round, Szeged, Hungary, 21st May 2011.
First game of the second tournament round we played against Sprint SE, the last year's vice champion. The match was very beautiful to watch, with lots of fighting and upheavals, the tight one, with many rescued "impossible balls". One of our key players from the setup again, in this same hall, as in last year's championship - played under high body temperature. It is true that we do not have too long bench, so this fact could be crucial.
It started quite relaxed. The battle was equal until 17:17 of the first set, when we realized that our opponent is vulnerable, and we need only "a little more press on the gas pedal." Coach added the required element to us in the time-out, and so we won the first set.
The second set started in the same manner as the first, but eventually we made some mistakes that costed us the set.
The third was held in the great struggle, but in mild domination of opponents. The coach tried to restore peace and stability of the team with time-outs and substitutions, but it did not gave a result good enough.
In the fourth set, Sprint led 2-1 in sets and they led with 22:19. Only three points to win. There was a big fight. Several moves of Feniks experienced players in critical moments broke the set in our favor. We siezed the second set-ball.
Tie-break, they say, is a lottery. However, it has a lot of opportunities to show the mental and physical condition of each player and the team as a unity. We've changed the sides with a lead of 8:2. Than opponents took a series of points and almost arrived near by, but we still maintained the advantage. 8:2 ... 12:9 ... 13:10, 13:11, 13:12, 14:12, 14:13 - hastily missed the first match ball and 15:13 - Recklessness of opponent server was used by the Feniks player who made the fault in the previous point. So, after all, the match ended with our victory, a big and important. To win the vice-champion and participant of the European league for several years is really not small achievement, especially because by this win a medal was smiling to us.
Sprint SC (Szombathely) : KSO Feniks  2:3 (-19, 23, 20, -24, -13)
In the second game against Tatabánya we had a weaker opponent than the previous one. Last year's fifth placed team (see here) had their moments and good moves. We are used to play hard and uncertain matches against Humanitas in the maximum number of sets, but this time we came to this win not so easy, however, routinely.
Humanitás SE (Tatabánya) : KSO Feniks  0:3  (-16, -17, -20)
Players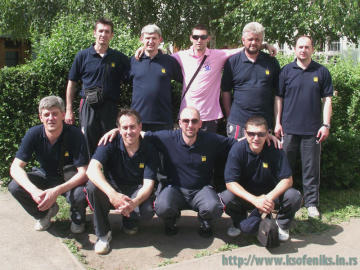 Standing: Brandić, Marić, Janjatović, Đuričin, trener Dragin
Squating: Zavišin, Anđelov, Herceg i Golijanin.
All results and ranking can be found here: www.uloroplabda.hu
Photos from tournament