OKI "Feniks" Kikinda - News
The 4th International memorial sitting volleyball tournament
"Dragan Vučić 2012",
December 9th, 2012, City Sport Hall, Laktaši
At the very beginning of the club, we realized that each invitation to a new tournament is a very good thing. First of all, this provides a new gaming experience and a chance to prove ourselves, thus we gain new friends, we are opening our horizons, we can see some new cities, and so we get a symbolic confirmation of our own quality.
We received the invitation to this tournament at the end of November, so there was not enough time to announce it here.
Municipality Laktaši consists of a series of small villages and the town Laktaši which is near Banja Luka, and has roughly 7,000 inhabitants (unreliable source). In terms we are using in Vojvodina, we would say "the village", but the rapid economic development of this municipality in the past few decades has made it today looks very modern. Also well-known, there is the Laktaši Spa.
The teams were divided into two groups:
GROUP A

1. OKI "LAKTAŠI", Laktaši, R.Srpska
2. KSO "KRAJIŠNIK", Banja Luka, R.Srpska
3. OKI "FENIKS", Kikinda, Serbia

GROUP B

1. KSO "ISKRA", Bugojno, FBiH
2. OKI "DERVENTA", Derventa, R.Srpska
3. OKI "DOBOJ", Doboj, R.Srpska

Reminder to actual "who's who": Bulletin No. 5 2012/13, SSOIRS.
The only team that is not in this bulletin is a new member of the Premier League of F BiH from Bugojno.
The tournament was opened after 2 games played. Participants and guests at the Town sport hall were greeted and the tournament was opened by the family members of late Mr.Dragan Vučić, whose name bears this tournament.
Trophies were standing still and waiting for those who will deserve them. However, during our heating these were toppled by the balls few times, unintentionally, of course. Maybe they were angry at us? Maybe the referee angered because the ball ricochets from the cup hit out him in the head? It seems that our apologizing and setting them again as they stood - doesn't worth. Just take it easy, we'll come to that point.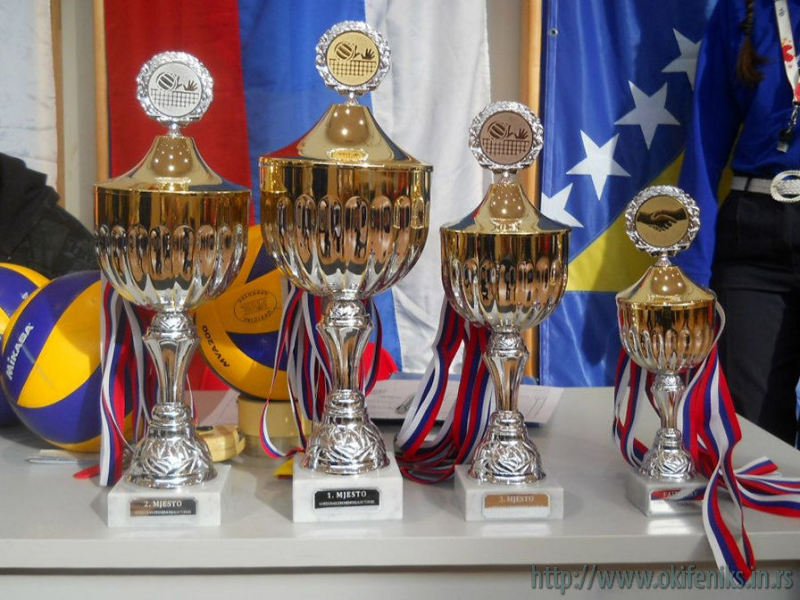 Within the groups games were played in two sets obtained and only the final game was to be played in three sets obtained.
Results - Group A

1. Laktaši  - Krajišnik 2:0
2. Laktaši  - Feniks    2:1
3. Krajišnik - Feniks   0:2

Placement in group A

1. OKI "Laktaši"        5
2. OKI "Feniks"         4
3. KSO "Krajišnik"      0

Results - Group B

1. Iskra - Doboj        2:0
2. Doboj - Derventa     2:1
3. Iskra - Derventa     2:1

Placement in group B

1. KSO "Iskra"          5
2. OKI "Doboj"          2
3. OKI "Derventa"       2

A1. Head to head match of our opponents within the group: Laktaši - Krajišnik.
A2. Finally we restored connections in our lines and played a great game versus Laktaši team. It was a completely different story compared to the still fresh impression of the tournament in Banja Luka. It was very interesting match, full of battles and long lasting points. We should not ignore the fact that "our side of the field somehow was always been bigger than on the host's side", but at the end of the seeders of justice somewhat spoiled the overall impression. At the result 14:14 in the deciding set was made an obvious mistake hard of the whole match. But, it doesn't matter, that is not the most important. We played a good, varied game, we showed ourselves in good light, and it's all fine, anyway the nuances decided. The eventual victory would take us right to the finals, where we really did not belong to, but I admit that we would feel very good to win one of these trophies...
A3. Krajišnik is a very experienced team, but must not to be underestimated. A little better would be to say it's somewhat "elderly" team. The fight was not particularly good, nor interesting, but it can not be said that we were superior and ruled in the field. Even there happened some funny situations in the game, but in the end it finished by our victory. Just like we hoped and expected.
A2:B2, for the 3rd place:

OKI "Doboj" : OKI "Feniks"      2:0

OKI "Doboj" is a great team from Superleague and by some miracle we managed to beat them in Banja Luka last year. This time it didn't happen. We have to point to the fact that "the long bench" is very important and in this tournament our bench was just "wider". If it is any kind of comfort, in the final standings behind us remained our friends from Derventa, which remained out of the fight for placement for only few points of difference.
A1:B1 for the 1st place:

KSO "Iskra" : OKI "Laktaši"     3:0

The match between new member of Premier league of BiH and the hosts without points in the first part of the Super League of Republic Srpska. It was a good match, the first two sets were very interesting and there might be something to learn. Later, the guests took back the helm and brought the match to secure their victory. Bravo for Bugojno and congratulations to Laktaši that provided the best performance today in the only game they lost!
The final placement:

1. KSO "ISKRA", Bugojno, F BiH
2. OKI "LAKTAŠI", Laktaši, R.Srpska
3. OKI "DOBOJ", Doboj, R.Srpska
4. OKI "FENIKS", Kikinda, Serbia
5. OKI "DERVENTA", Derventa, R.Srpska
6. KSO "KRAJIŠNIK", Banja Luka, R.Srpska

At the pleasant gathering in the restaurant were awarded by cups, medals and thanks for attendance.
Nice gesture of organizers: medals were given to the ball retrievers, too.
Dženan Mahmutbegović from the champion team "Iskra" from Bugojno won the MVP title.
Again, these trophies! Well, it is enough to say that there is a good reason that Feniks earned this smallest one, the one for the Fairplay!
Congrats to the champs, but to the hosts also for the excellent organisation. We wish them more luck in the championship continuation.
OKI "Feniks" in Laktaši:


Standing: Anđelov, Golijanin, Setorić, coach Dragin
Sitting: Zavišin, Milošev, Brandić, Đuričin
Usually at the end of the article follows the clipping from a newspaper, but this time it is not so. Kikindske newspapers are closing for receiving news at Tuesday noon, so we did not have time even to think about it. Anyway, in "Bijeli dvor" hotel we liked it very much (we really did), so that's why we decided to stay over another night there ... The complete truth is that "a small reason" for that was because of the snow storm in Vojvodina that could caught us and, very likely, stop us who-knows-where-and-when, after midnight on one of the roads to home. We decided that safety is above all and we headed home on Monday after a heavy, homemade breakfast in this hotel.
So at the end we placed the pictures from our departure and return, in both cases recorded very close to the table with town name Kikinda.
Video clips will be stored on the separate page from now and on.