OKI "Feniks" Kikinda - News
The First League of Republic of Srpska in sitting volleyball (SSOIRS)
the 9th (and 10th) round, Prijedor, school "Desanka Maksimović", May 12th, 2013
In the last matches of the First league of Republic Srpska OKI Feniks achieved a maximum two wins against teams from Foča and Prijedor.
Situation on the table before this round was described in the news from Kikinda. From this point of view these victories have done all in our domain in order to keep the second position at the end of the season. We were aware of these facts, and so the first game against Maglić from Foča started nervously.
Fortunately, team on the opposite side did not have the strength to confront more seriously, except in the first set. After the second technical time-out, things fell into place, and this game was over with our expected victory.
OKI "Feniks": OKI "Maglić" 3:0 (21, 13, 19)
Twenty minutes after that we started the match against the hosts. OKI Prijedor is a serious team, they managed to win 3:2 "Borac", and we probably have forgotten that. While we're still celebrating last victory in our heads, they nearly caught us "on sleeping". They took the lead with 23:18, and shortly afterwards had three set points. We might have already been used to this kind of situation to play under pressure or something else, but we played the best when it was the hardest. In those moments Vlajkov was the most calm and from experience in a regular volleyball ensured that tas scales sway to our side.
In the first set, we literally got away with 27:25 and the rest of the game was a lot safer. They threatened us in the third set, but we always managed to defend the advantage so our victory was out of the question.
OKI "Feniks": OKI "Prijedor" 3:0 (25, 15, 21)
In terms of refereeing impartiality and consistency of criteria the refereeing was fair. What you might not mind was the relatively low criterion of flap from the floor and "dirty" balls, but when the previous is satisfied, then this objection is significant mainly for the eventual refereeing controller. The entire course of both our matches was seen, among others, by our fellow citizen and sport reporter - well known as a Đera, who is currently resident in Prijedor.
In the third game where the team Prijedor won versus Maglić by 3:1 (25:13, 16:25, 25:13, 25:23), we were getting ready to go home.
Thus, this time there was no spending some time in chat with host, but this was worthy replaced by the club's president, Mrs. Nedeljka. She took care of refreshments, necessary assistance and good humor. Thank you!
Well, now here is what you've already guessed. This section of text is added after playing the 10th round in Banja Luka. The "crucial" game IOK "Borac" : OKI "Derventa" was finished with the Borac win of 3:1. However, guys from Banja Luka had already lost the chance for comeback on the second place, as Prijedor steal them a point in the game played before mentoned one - IOK Borac : OKI Prijedor 3:2. From our point of view and unexpectedly this one became the crucial one.
There's nothing more to say, except that OKI "Feniks" won the second place in the first division of R. Srpska in the season 2012/13.
The First league table is here:

1. OKI "Derventa"     10      9       1       28:9    853:653 26
2. OKI "Feniks"       10      8       2       26:12   845:704 21
3. IOK "Borac"        10      6       4       26:17   940:840 21
4. OKI "Maglić"       10      4       6       14:20   752:810 11
5. OKI "Prijedor"     10      3       7       16:26   867:911  9
6. KSO "Krajiąnik"    10      0      10        7:30   539:739  2

And the complete tenth Bulletin (dated May 21st) with final standings of the Super league and the First league of R. Srpska can be found here.
The comment about us in this Bulletin will probably tickle yourselves to review the second paragraph in text from the season's begining.
For the runner-up in Prijedor performed:
Brandić, Golijanin, Milošev, Đuričin, Anđelov, Vlajkov and Zavišin.
Coach: Dragin
Photography: Ćira
Photo rescuer: Grba
- * -
The editor and writer of these pages is releasing these news in the air later with premeditation. No, nothing unexpectedly has happened. In particular, nothing other than the fact that I almost lost the collection of photographies from this event. Thanks to the knowledge and efforts of our webmaster they are rescued somehow even after formating of SD card. From the previous tour in Prijedor we had not made a lot of pictures, but at that moment something else left on the video gallery for the comfort, where it is already stored more than 10 hours of play. This time we brought 6 complete, non-damaged, points and this gallery. Isn't that enough?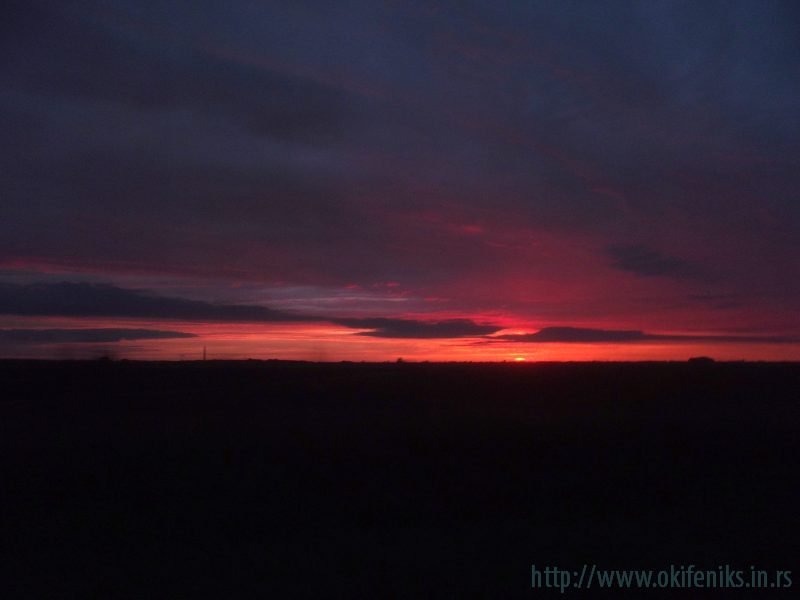 In the end, I can offer you the photo made from a van on Bašaid-road, a few kilometers before entering the Kikinda. Why, you may ask? I might now describe it as the symbolic end of the season, or as the natural environment of the Phoenix rebirth, or as a curiosity we were returning home from a distant time before nightfall or tranquility of Banat, which takes place over the eternal struggle of light and darkness, or what ever you can think of.
No, all wrong guesses. It's simply because this was ALMOST THE ONLY ONE shot that remained.
From the press: