OKI "Feniks" Kikinda - News
League of the Republic of Hungary in sitting volleyball 2014/15
(Tesco Ülőröplabda Magyar Bajnokság 2014/15)
Playoff, 2nd round, Saturday, April 25th, 2015
Nyíregyháza, Bem József primary school
The Championship play off continued with the second circuit in Nyíregyháza, where the four best teams of the Hungaian sitting volleyball League re-tested their strength among them.
Two defeats in the first play off round in Kikinda slided us from the first to the third place. In order to possibly restore our position in the table, there was necessary to play this round quite well. This fact made this round very important, and already known distance of the host city has caused the necessity of spending night in the city. The owner of this very likeable accommodation facility is a man from Serbia, so if you need the address by some madness, do not hezitate to contact us.
This school is superbly equipped for our sport, and you shouldn't wonder why when you know that European Championship in sitting volleyball took place there, well, not so long ago. A bit confusing lines on the ground can only confirm that this sport hall is frequently used by various sports.
We shown good performances and deservedly earned new 6 points, although at the beginning of the day things didn't looked as, not even nearly. In the first match we were defeated by the host Piremon 0:3. As always, we tried to confront and tried everything, but they always had an answer to our tactics. Maybe it's better to say that we did not have a good answer to their tactics and organization?
Our break for change of wet shirts and "reheating" took place during the second match between Sprint and Mozdulj. So we missed that quite expected match start of a Mozdulj win in the first set and we even had a little time for posing.
However, Mozdulj was quite relaxed entering in the end of the second set and they lost it in a fight to the minimum difference. This already made us to get more interested to see the details. Moreover Sprint has used their momentum and the poor play of opponents in the next set, and they got it by a big point difference. Mozdulj was struggling to get the next set and to stay in this game, but they dropped off the advantage at the end of the set and thus the Sprint celebrated their first victory in the play-off. There's nothing more to say, except that these guys with one girl blew a good wind in our sails.
In our second game we beat the always dangerous Sprint. After all, they showed the quality in the previous game. Our game was overwhelming, but it was quite good enough to achieve the victory of 3:0, and so not to lose too much power for the match against a direct rival in the standings.
Probably our "bench guys" were looking ahead in our last game and forgot to take some photos, so we can not cover this part of the report. Basically, these 3 points and 3:0 win over a Mozdulj from Vac were the most important to prevail on standings. These points lead us to the second position on the table and provided us a very big chance to remain there after the last round of the competition. Mozdulj significantly broken its position with three defeats, but one must admit that they didn't show at their best issue.
"It doesn't matter that the results of all volleyball matches that ends in three sets look convincing, but it was anything else, but not easy and simple. We played very well, we managed to keep our concentration and strength during all three matches. As the first, it was a question of respect for discipline and original ideas, but it certainly contributed to the slightly longer bench that we properly used. These two wins and points are extremely important to us, because with them we climbed over one place in the standings and we are able to repeat our success in the Hungarian Championship from years 2012 and 2013" - Said Mourinho.
The hosts did not insult anyone and solved remaining two matches in their favor without major problems. Our fight for the first place has remained in the domain of theory and we have no illusions on this point, but for the silver we still have to get sweat a lot, although the difference in the standings looks very large and promising.
All results, play off 2/3

1. Piremon SE - OKI Feniks  3:0 (17, 16, 14)
2. Sprint SC - Mozdulj SE   3:1 (-20, 26, 15, 23)
3. OKI Feniks - Sprint SC   3:0 (18, 21, 17)
4. OKI Feniks - Mozdulj SE  3:0 (20, 16, 18)
5. Piremon SC - Sprint SC   3:0 (19, 16, 23)
6. Piremon SE - Mozdulj SE  3:0 (20, 19, 23)

Standings

1. Piremon SE (Nyíregyháza) 13 11 0 1 1 35:6  34
2. OKI Feniks (Kikinda)     13 9  1 0 3 31:12 29
3. Mozdulj SE (Vác)         13 7  1 1 4 27:19 24
4. Sprint SC (Szombathely)  13 5  0 0 8 17:25 15

After a successful round our trip back was maintained in a very good atmosphere. Our sun breaks through the clouds.
Since some recent date our local newspapers can be found the Cyrillic edition only: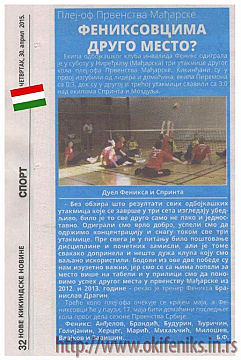 In the official report you can find the results of the Lower dome, with the comment from the Association. The third and final play off round will take place in the first weekend of June in Budapest or Vac.
Played: Anđelov, Brandić, Budurin, Đuričin, Golijanin, Herceg, Marić, Mihaljčić, Milošev, Vlajkov, Zavišin.
Coach: Branislav Dragin.