OKI "Feniks" Kikinda - News
League of the Republic of Hungary in sitting volleyball 2014/15
(Tesco Ülőröplabda Magyar Bajnokság 2014/15)
Play-off round 3, Sunday, June 7th 2015,
Budapest, OORI, Szanatórium u. 19
Final play-off round of Bajnokság, three leading teams are at intervals of 5 points and only the fourth one is left without hope of a better standing, the sport hall in OORI in the part of town known as the Budakeszi.
The metropolis on the Danube, the dominant Parliament building, St. Stephen's Basilica, Chain Bridge, Margit-Sziget, a city rich in history, sports, music, wine, food and many other things, capital of Hungary, Budapest. In previous reports we have set up some photos from Váci street, photos with the statue of Liberty on St. Gellert and the Embassy of Republic of Serbia with the Square of Heroes. As many times you come here...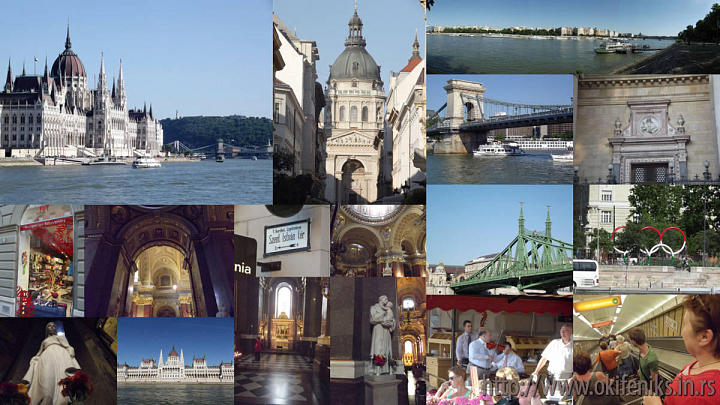 Khm! D-Day, day of decision, play-off round 3rd of 3.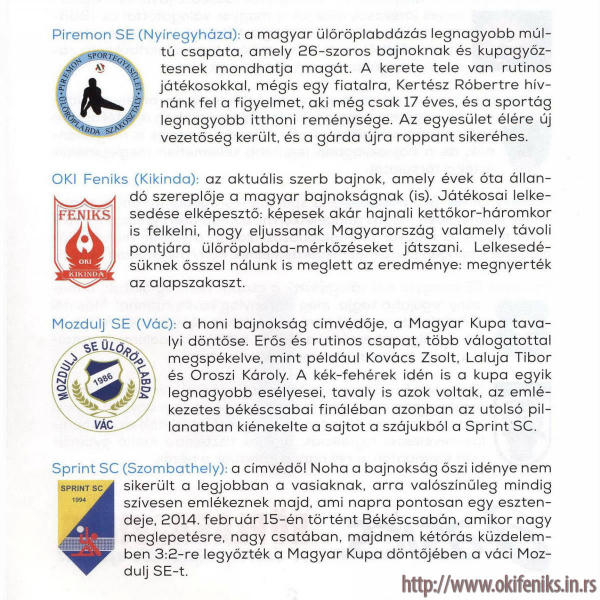 Before that, let us take a look at the table after the previous 2 round. It is clear that the most important is the victory against our direct competitors from Vác, but the rest is the domain of conspiracy (and) theory. In our minds were various calculations, we pictured back last year's final round bitter memories and we hoped that history won't repeat. But the schedule of play that we get a couple of days before the trip was encouraging and there really were no complaints.
Lets start from the begining:

1. Piremon SE - Mozdulj SE  3:0

Piremon was convincing.

2. OKI Feniks - Sprint SC   3:0

Feniks was convincing, too. After this match the second place was guaranteed! The good mood was spread inside the team and after that was easy to play.

3. Piremon SE - Sprint SC   3:1

Piremon won the first set. The match is performing in the expected direction and quickly. Slowly we started to warm up for the match against Mozdulj. However, Sprint won a second set! That was the first one they won in the four games against Piremon this season. What happened? On one hand appeared the slight disappointment with an additional set of waiting, and on the other appeared the spark of hope for the possibility of winning even the gold in case of Sprint's win! Nah! Nonsense! Piremons than quickly dispersed these thoughts and now the final standings is completed.

4. OKI Feniks - Mozdulj SE  3:0

We kept concentration throughout the complete game. It was a secure victory in a game that could decide about the second place on paper.
This match was recorded and published in Video gallery.

5. Mozdulj SE - Sprint SC   3:0

A match of two tired and uninterested teams won the Mozdulj.

6. Piremon SE - OKI Feniks  3:2

Match of two best teams was set at the very end, just for true gourmets and patient ones. We continued to play exceptionally well, as in a fairy tale. We won the first two sets, it was unbelievably well. But opponent isn't an easy surrending team, and they are not the best by accident. We ran out of power, and then our game fell apart. We collected our game pieces in the fifth set, we played good again and we had a 7:4 and 11:10 lead. However, it turned out that it was not enough. Congratulations to the new & old champions! Deservedly, indeed!
This mach is also placed in video gallery, although it's not complete; we estimated it's nevertheless worth a bit of analysis.
Table, Bajnokság 2014/15

1. Piremon SE (Nyíregyháza) 16 14 44:8  42
2. OKI Feniks (Kikinda)     16 11 39:15 36
3. Mozdulj SE (Vác)         16 8  30:25 27
4. Sprint SC (Szombathely)  16 5  17:34 15

Assign of medals and the cup was attended by gold and silver winners only:
A day before the third round of the Lower House was played in the same sport hall.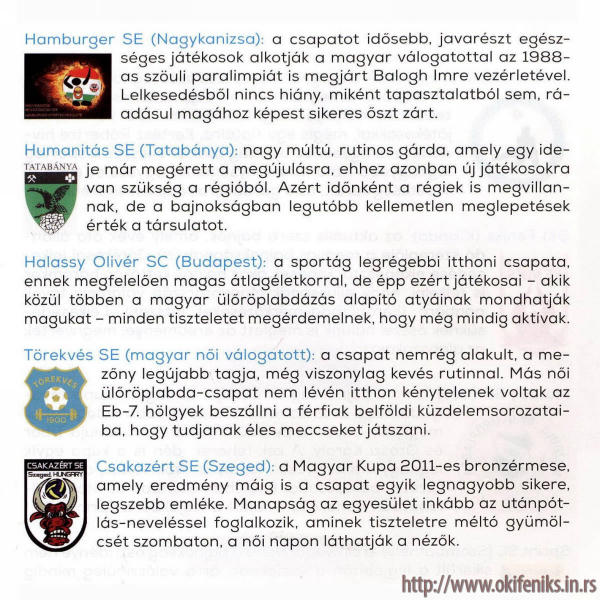 We expect the official report with the final standings to be edited on hunvolley.hu, as usual.
Local newspapers are recently issued in the cyrillic edition only:

Played: Anđelov, Brandić, Budurin, Đuričin, Golijanin, Herceg, Marić, Mihaljčić, Milošev, Vlajkov and Zavišin.
Absent this time: Dragan and Setorić.
In the end, our coach: Branislav Dragin, Baja, aka José Mourinho or, if you like better hungarian version, our Gusztáv Sebes.