OKI "Feniks" Kikinda - News
Tatabánya, The Hungarian Cup,
Sárberki Általános Iskola, 12th May 2012
In the news from Szombathely dated to 3rd March 2012 we have described this event as "The Farsang Cup", that was adapted into "The Hungarian Cup", but time has shown that it is wrong. Please, let us not mind because of this, because it was certainly not intentional. So in this publication, we also corrected previous news, in a sufficiently conspicuous manner.
First of all, to clarify how did it happen: there was no competition in Hungarian Championships 2011/12, the crisis in the Hungarian Association of sitting volleyball is evident, there were no informations we received neither a regular nor timely, the website www.uloroplabda.hu was not updated more than a year, so it created a bit confusing situation. Additionaly, Hungarian Cup in 2011 was held in the first weekend in March, and noted Farsang Cup in Szombathely was too, so we were convinced that - this is it!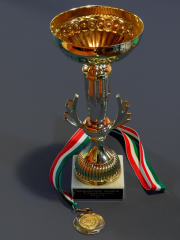 However, on 12th May 2012 in Tatabánya was tournament played under the explicit title and all Features of the Hungarian Cup, but previous news was already posted on this website. The only thing left to do was to apologize to readers and to correct this error. This we have done by our efforts and good play. Thus, in both of these tournaments where competitors were very much the same, we achieved the same and the great success: the second place, both times behind team Mozdulj from Vác. Here is needed to note that the team Piremon from Niredyháza also did not participate in this tournament.
Tatabánya is located at 300 km from Kikinda, 55km from Budapest on the road to Vienna. Therefore, again we had to wake up so early to be on the road in 4 o-clock after midnight.
Thus, this linked sentence is now in the correct place: "In the last year's Cup, we had nothing to celebrate, but this year we did not allowed to be surprised."
We participated here with six Hungarian teams that were divided into two groups, a draw was conducted just before the start of competition. Matches within the group were played in 2 sets obtained, and semi-final and the final were played in 3 sets obtained.
Group A

Mozdulj SE - Hamburger SE     2:0 (25:18, 25:7)
Csakazért SE - Törekvés SE    2:0 (25:17, 25:13)
Mozdulj SE - Csakazért SE     2:0 (26:24, 25:16)
Hamburger SE - Törekvés SE    2:0 (25:19, 25:12)
Csakazért SE - Hamburger SE   2:0 (25:18, 25:14)
Mozdulj SE - Törekvés SE      2:0 (25:12, 25:8)

Group B

OKI Feniks - Humanitás SE     2:0 (25:12, 25:11)
Sprint SC - OKI Feniks        1:2 (25:23, 22:25, 8:15)
Sprint SC - Humanitás SE      2:0 (25:18,26:24)

The match versus Humanitás, we started a bit reserved, but things quickly came to the right place and a victory was achieved quickly and easily, in a way one could only wish. Reminder: it is the same opponent surprised us in the last year's Cup and beat us in a close finish of the 5th set.
The match against Sprint SC we should get in order to avoid Vác in the semifinals. We closely won the first set and missed an opportunity to resolve this match in two sets. The third set we get furiously with correcting all the mistakes of the previous one. This was a game in which the every individual of our team had on the playing ground "his own minute of glory": a series of services, some direct points by the block, a receptions, settings, playing in the field and/or attacks. On the opposite side of the net was well known team Sprint in the strongest issue, but our team completely functioned perfectly, regardless of a lost set. It seems to us the adrenalin wore us mysteriously against a great opponent and very badly slipping floor.
"Mourinho" described this match as one of the best Feniks played at all. (Khhm... it seems we have finally complied with everything he teaches us.)
Match for the placement:

Törekvés SE - Humanitás SE    0:3 (15:25, 17:25, 23:25)

Semi-final matches:

OKI Feniks - Csakazért SE     3:0 (25:18, 25:10, 25:14)

Our greatest Hungarian friends from Szeged, gave their best and tried to "make our life quite difficult", but we kept our play level sufficient enough to overcome their resistance. We provided another very solid performance.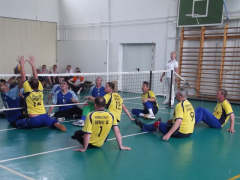 Mozdulj SE - Sprint SC        3:0 (25:18, 25:17, 25:22)

Match for the 5th place:

Humanitás SE - Hamburger SE   3:0 (25:15, 25:12, 25:7)

Match for the 3rd place:

Csakazért SE - Sprint SC      0:3 (18:25, 12:25, 17:25)

Final:

OKI Feniks - Mozdulj SE       0:3 (16:25, 20:25, 26:28)

When you get up four hours earlier than usual, then travel four hours and then play (and win) three games, I have to admit it is not easy to warm up for the fourth time. Anyway, all conditions were the same for both teams, and there was nothing to complain. However, the thought that you reached to the finals and now you have a chance of something unreal and unattainable, will encourage you to take back your best.
Obviously, the heart and desire were not enough. The first set was over and that yet again we have not reached the full operating temperature. As the match progressed, the temperature increased, and we played better and we had the lead 15:10 in the next two sets, even in the third we had three set points. The match was very good one, but it seems that we have not had power for more.
Finally: the silver medal and the trophy for the second place in the Hungarian national Cup, it is a bit?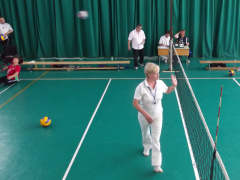 We're still not sure that we fathom the opponent's mystery "how they have managed to preserve the freshness unlike us? ", but some of it we do suspect we will work on it.
Placement:

1. "Mozdulj SE" - Vác
2. "OKI Feniks" - Kikinda
3. "Sprint SC" - Szombathely
4. "Csakazért SE" - Szeged
5. "Humanitás SE" - Tatabánya
6. "Hamburger SE" - Nagykanizsa
7. "Törekvés SE" - Budapest

Hungarian national Cup vice-champions of 2012:


Standing: Herceg, Golijanin, Brandić, Anđelov, trener Dragin
Sitting: Zavišin, Milošev, Đuričin, Marić
Photos from tournament