OKI "Feniks" Kikinda - News
The 4th international tournament "Kikinda CUP 2013",
June 1st 2013, Sport Center "Jezero", Kikinda
Town in the vast plains of the Banat, the town of pumpkins, of Kika the Mammoth, of utina owls, orthogonal schedule of streets, one of the last horse mills, the city of tolerance, town with a plenty of nations and much more else, on Saturday 1st June 2013 also became a city of sitting volleyball!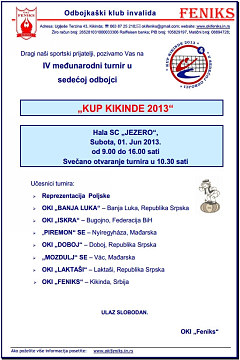 Our invitation to the tournament
Thanks to everyone who repeated our call!
Openning ceremony
On the sitting volleyball fiels were lined up about 90 competitors, and there were standing around 200 spectators. The opening ceremony began with anthem of Republic of Serbia, while on the masts were waved flags of five states.
In the name of OKI "Feniks" a warm welcome to all participants, guests and visitors wished the announcer B. Ugrinov with Radio Kikinde. Among the competitors have recognized the faces from the previous tournament, so we assume that they are here and liked it so come again, we are very pleased. It's a good sign that we were good hosts.
Then competitors, organizers and audience were welcomed by Mr. Krstajic, a former football player, who played part of his career in FC Kikinda. He expressed his admiration for this "sport without borders", wishing the contestants good matches and a fair fight.
Mr. Rajko Kijac, President of the Volleyball Association of Vojvodina, welcomed participants praised the hosts for organizing the tournament, wished everyone good luck and announced that he would push to sitting volleyball to become a full member of the OSV and OSS.
The tournament was opened by Mrs. Dragana Dukic, a member of the Municipal Council of the Kikinda Municipality in charge of youth and sports. She especially thanked the Club OKI "Feniks" for supporting her in the first steps in this function and for the fair and friendly attitude. She greeted everyone in the hall and expressed her delight as this magnificent sports event is held in Kikinda. She wished success to the teams in this competition, and to the hosts she wished many more such tournaments.
The hosts made an effort to maintain the "Kikinda CUP" and even improve it's level, and even for the previous one was characterised as the best tournament of this Paralympic sport in Serbia. As every year the club won the new steps in various competitions, and so the tournament grew slowly and proudly to a real Great tournament. There even happened that among the existing 8 places we couldn't place all team that aplied, who were at least of the same caliber.
Just like in the previous year was the case, each of the seven teams has yet to their collection more valuable trophies, medals and certificates compared to the host team. Thus were provided all necessary conditions for playing quality and even top matches in our city.
Teams
1. Representation of Poland - winner of 6th palce of the European Championships in Rotterdam 2011th (Serbia was on the 7th place), and this year they are the organizers of the European Paravoley Championships in the town Elblag.
They arrived in Kikinda a day earlier than the others - and they had an improvised training on a grass.
2. OKI "ISKRA", Bugojno, Fed. Bosnia and Herzegovina - past season was the first one of their competing in the Premier League of Bosnia and Herzegovina. Regardless of their placement Premier League of BiH is the elite one, there is no doubt, the strongest European league as evidenced by the many successes of the BiH team.
3. OKI "Banja Luka" from Banja Luka - the best team R.Srpska as it is already subscribed to the first place in the Super League and their players are the most of the national team.
4. OKI "Doboj", Doboj, R.Srpska - a team that is at the top of sitting volleyball of R.Srpska, but also, the real opponent and a friend of Banja Luka.
5. OKI "Laktaši", Laktaši, R.Srpska - the team that is leavin Super League of the R. Srpska after the past season and will probably become a member or the First League of R. Srpska in the next season, so they will compete with Feniks.
6. SC "Piremon", Nyíregyháza, Hungary - Hungary's multiple champion and long-time participant in the European leagues, ECVD.
7. "Mozdulj", Vác, Hungary - last season's champion of Hungary, and Feniks did not manage to beat them and so we took the second place. However, just two weeks ago this team has played in Kikinda in the Hungarian League and the score was 3:2 for Feniks.
8. OKI "Feniks", Kikinda, Serbia - team of hosts is a modest team with great ambition and inexhaustible enthusiasm, but without illusions that in this competition we can make some wonder. Yet, it is the current champion in League of Vojvodina and Serbia, and runner up in Hungarian league and in th First league of R.Srpska.
Gifts with the characteristics of Kikinda were presented to the team captains by a trainer of Feniks - Branislav Dragin and from the captain and national team member - Dragiša Brandić. The gifts were provided by Municipality of Kikinda, Tourist Organization of Kikinda, Terra Gallery and Hubert 1924 distillery.
Organizing this tournament wouldn't be possible without help forom many people of good will. OKI "Feniks" is saying thank you very much for all your help! First of all to these institutions: Ministry of Youth and Sport, Provincial Secretariat for Sports and Youth, Kikinda Municipality, and than to Delta Foundation, the Commercial Bank, "ProMedia", "AMSS" - PJ Kikinda, Independent trade union MSK, cleaning service "Taski" GP "Brkljač", caffee "Champion", Cultural Centre Kikinda, Sports Society of Disabled Kikinda, Kikinda refereeing association, elementary school "Vuk Karadžic", Sport Center "Jezero", TV Rubin, VK TV and radio, Radio Kikinda, local newspapers Kikindske and Kikindske nove, Restaurant "Bela Vila", physiotherapist Dragan Trifunac, Borko and Nemanja Vučković, our webmaster Dragan Grbić with assistant Bule, and finally, our dear friends - volunteers.
Match Results:
Court A

                              Sets   Points
"Mozdulj" SE - OKI "Feniks"    2:0   25:22, 25:6
OKI "Doboj" - OKI "Laktaši"    1:2   24:26, 25:22, 12:15
OKI "Feniks" - OKI "Laktaši"   0:2   16:25, 11:25
OKI "Doboj" - "Mozdulj" SE     1:2   25:13, 22:25, 12:15
OKI "Feniks" - OKI "Doboj"     0:2   17:25, 19:25
OKI "Laktaši" - "Mozdulj" SE   2:0   25:17, 27:25

Group A

                         Points    Sets
1. OKI "Laktaši"           8       6:1
2. "Mozdulj" SE            5       4:3
3. OKI "Doboj"             5       4:4
4. OKI "Feniks"            0       0:8

Court B

                                    Sets   Points
OKI "Banja Luka" - Poland           2:0    25:15, 25:15
KSO "Iskra"- "Piremon" SE           2:1    22:25, 25:14, 15:12
OKI "Banja Luka" - "Piremon" SE     2:0    25:23, 25:16
KSO "Iskra" - Poland                2:0    26:24, 25:17
OKI "Banja Luka" - KSO "Iskra"      0:2    23:25, 13:25
"Piremon" SE  - Poland              2:0    25:22, 25 :13

Group B

                         Points    Sets
1. KSO "Iskra"             8       6:1
2. OKI "Banja Luka"        6       4:2
3. "Piremon" SE            4       3:4
4. Poland                  0       0:6

Matches for the placement

                                                           Sets     Points
7th place   /A4 - B4/   OKI "Feniks" - Rep. of Poland       0:2     11:25, 22:25
5th place   /A3 - B3/   OKI "Doboj" - "Piremon" SE          0:2     21:25, 19:25
3rd place   /A2 - B2/   "Mozdulj" SE - OKI "Banja Luka"     0:2     16:25, 23:25
1st place   /A1 - B1/   OKI "Laktaši" - KSO "Iskra"         0:2     11:25, 12:25

The final placement

1. KSO "Iskra"
2. OKI "Laktaši"
3. OKI "Banja Luka"
4. "Mozdulj" SE
5. "Piremon" SE
6. OKI "Doboj"
7. Representation of Poland
8. OKI "Feniks"

Our play
We were defeated in all the matches, which is not that bad according to the list of teams against whom we crossed spears. The trouble is that this time our play was not even close to the level at which we can play, not even close to the one we show only a few weeks ago. In these games was sometimes evan a glimmer of hope that we can be back in the game and come to our senses, but we showed a very unstable game, and in some moments we were even hopeless. Why this was so, I can not explain. It is best to forget about it and turn to the new competitions. The doctor wour say: Symptoms > Diagnosis > Therapy.
Other matches
Generally speaking, in all 16 matches was shown very solid sitting volleyball, which was the organizer's one of the key goals. The competitiveness of the teams was at the maximum level, so ther were a lot of very interesting, high-quality and tense game. Matches on terrain B has shown in higher quality, and I would point out as the most interesting matches on the champion Iskra vs Banja Luka and vs Piremon. They reached a truly high level of the game, and these realy shows what this game can offer. Also, interesting fact is that in the finals were played two teams relegated from the leagues in which they compete.
Refereeing
The refereeing collegium consisted of referees from Kikinda association led by ECVD referee, Mr. József Benkő and on the scorer's table, Mrs. Illy, our friends from Hungary. There was shown a significant gap between the quality of technics among the teams, which forced referees to determinate their criterion. On the other hand, setting up and maintaining a constant criterion of worn balls in sitting volleyball just like in a regular volleyball is a benchmark of a good refereeing, but local referees did not ensured it. Rather, they were not satisfactory for such a strong tournament, despite the evident impartiality. The quality of the refereeing, of course, varied, as well concerning their experience in regular volleyball. Jozsi has done his job correctly. However, here we have to say that perfection, simply, does not exist. Last year, he was refereeing at all 9 matches, and the criterion was the same and did not affect the game.
Due to this problem we must ensure better education of our referees, to give them a chance to practice more sitting volleyball matches. Another option is to hire a good and experienced sitting volleyball referees, which unfortunately, Serbia does not have. This would significantly improve the game, but would also significantly increase the costs of the organization. We need to put a finger on our forehead and to find some compromising solution for the future.
Organization
We don't want to judge about ourselves, but the fact is that all the teams left Kikinda full of nice impressions, happy, with lots of praise and desire to come again. This is testifying to many official posts of clubs and statements of participants that we have received during and after the tournament. We succseed with the intention to commit homely attention each team, to give everyone the same conditions and to show a good matches to the spectators.
Equipment
This was the first time in Kikinda (and probably in Serbia) to play games on two courts. Metal construction for the net have been long prepared for this purpose after many futile attempts and finally they passed the test.
Reports on the web
Volleyball Association of Serbia
ATA Stars
Volleyball Association of Niš County
Hungarians have described "Balkan atmosphere" on tournament, including the small stain which was definitely not in the domain of the organization. This article is announcing future partnerships and initiatives for the advancement of this sport in Hungary. Result and invitation was also published on www.ecvd.eu.
Closing ceremony
In the restaurant of the Youth village were awarded trophies and diplomas. Cup of fair play has been awarded to the national team of Poland. The dinner was followed by a pleasant socializing and talking about past and future tournaments.
From the local newspaper