OKI "Feniks" Kikinda - News
Hungarian championship,
3rd round, Vác, Hungary, 4th June 2011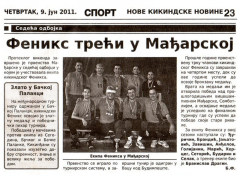 In Szeged already, we knew that we almost have the bronze in our hands!
Also look at the comprehensive collection from this event...
Here in Vác we were supposed to win two teams from the bottom of last year's league table: Csakazért SE - Szeged (text about them is here) and Hamburger - Nagykanizsa (the last placed team).
The team which Csakazért had in field in the second round of Szeged could not beat us, but we did not met there according schedule. What kind of team will come in Vác? Will the medal be ours? Time will show.
Schedule was a little disturbed, so we were warming up for the match against Szeged watching Mozdulj (Vác) : Sprint (Szombathely). It's hard to watch the match in which others are to decide your fate. 3:0 for Vác, fair and as we desire. In the meantime, it our opponents emerged there in the strongest release.
We did not mind this and beat them as well as Hamburger in straight sets. Of course, there were some drops in the game, there were some tight situations, there was all that could be expected. However, the team has definitely matured and deservedly won two new victories, which, not even a moment, didn't came into question:

Csakazért SE (Szeged) : KSO Feniks  0:3  ( -17, -20, -19 )
Hamburger SE (Nagykanizsa) : KSO Feniks  0:3  ( -14, -22, -16 )

Thus the team KSO Feniks won the trophy for the third place and the bronze medal in Hungarian championship for year 2011!
Last year's fourth position was already a significant success, but now we made a great step forward, towards the top.
The fight for the next step starts in autumn. Well, we even won the team of Vác last year... Who knows what would happen if we crossed the spears in Nyíregyháza? well, just take it eeeeaaaassssy!
Winners of the bronse in Hungarian Championships, (Vác, 4th June 2011)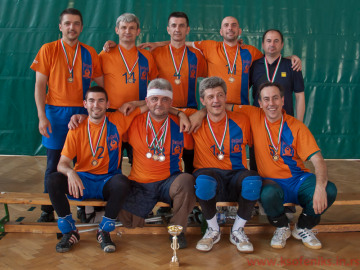 Standing: Golijanin, Marić, Brandić, Herceg, coach Dragin
Sitting: Janjatović, Đuričin, Zavišin, Anđelov
Also look at the comprehensive collection of more than 100 photos from this event...