OKI "Feniks" Kikinda - News
The First Serbian League 2014
Volleyball Association of People with Disabilities (OS OSI)
2nd semi-season
OKI "Feniks" is the First Serbian League Champion for the year 2014 so it is the repeated success from the two years ago.
The competition in year of 2012 was identical, only the SSIS was the competition organizer, and this time it is a superior alliance to organizer OS OSI. In last year's competition Feniks was not involved, and the reasons why we have already clarified in the report of the first semi-season. Yet at the end of the League's spring part the Feniks possessed the top position, while in the second part held this position tight and unattainable until the very end.
2nd semi-season
4th game, September 6th, 2014, Kikinda, sport hall SC "Jezero"

OKI "Feniks" : OKI "Serva"      3:0 (25:12, 25:10, 25:8)

The first club activity after the summer break was the organization of the 5th Kikinda Cup. In agreement with the guest team, we extend the first match of the tournament in 3 sets obtained and simultaneously played it as a part of the League of Serbia.
5th & 6th game, October 19th, 2014, Kragujevac, elementary school "Milutin i Draginja Todorović"
It was agreed to play postponed and regular game on the same day in Kragujevac in the fall. The results of these two matches were following:

KSO "Kragujevčani" : OKI "Feniks"   0:3 (19:25; 23:25; 20:25)
KSO "Kragujevčani" : OKI "Feniks"   0:3 (20:25; 15:25; 12:25)

Te second one is in our Video Gallery.

We haven't played too much against this team, especially not recently. They don't have too much experience in sitting volleyball, but it turned out that in the field were mostly former regular volleyball players who know how to play. It became clear that winning a point in narrow defeat against the Smeč team wasn't their incompleteness, neigther a coincidence. Since than Kragujevčani have risen their ambitions, they become more serious team, no matter they doesn't have disabled players in a start up.

Now you need to pay attention to a few things that follows. On the weekend before this one we played one of the most important matches in Bajnokság, with a quite positive outcome. It is very likely that our impression of team power still "held our noses in the clouds". So we came into the first game much relaxed and even carelessly, without thinking of what awaits us, with no idea that over the net is very combative team, very well placed in the field. Certainly it isn't by a coincidence. We found an explanation in the fact that they involved two coaches of (regular) Super League teams in work with this team, and as well in play. And even more, these guys has some valid results.
Even this is good enough to complicate our situation, but then there were included inexperienced referees. I have no doubt that both them are good kids and they will eventually learn this job, at least because they are learning in town that has a volley tradition for the respect. However, these two games were refereed very, very poor. I am not saying it in terms of their attitude of a supporters, but of a poor respecting of sitting, and even regular, volleyball rules and their inexperience. I am convinced that they have a very small number of refereed matches in their hands or in their whistles ... whatever. They shown uncertainty and made a bunch of basic, obvious errors which, naturaly, always made a detriment to the team of a beter quality. By seeing the video you will figure that we had to win even 26 points in two set, which means that even scorer wasn't doing his job correctly. Such a develop in the field leads to nervousness of players, which is counterproductive in terms of the players and even to the refereeing team.
Better team wouldn't be better if it failed to deal with these problems and if it didn't won both games. At least, I hope we've learned something from all of this.
P.S. -- There's something else: school hall is near Ćifta's bridge. Probably our van would looked like the surrounding "picturesque" buildings if our driver didn't avoid accidend this morning. The bus driver from the opposite direction was overtaking, neither more nor less, but a column with another bus ahead, in the fog with visibility of not more than twenty meters. Literally there were milimeters missing to the point ... we wouldn't reach Kragujevac. Boris, thank you for your cool head and for your excellent reflexes. We thank to the One who sees it all of the above. A few seats fell out of the holders, a some bigger number of us fell out of the seat. We just took a glass of water and a little sugar in the next village, and continued our trip.
Boris is the first guy on the right side of the table.
7th game, October 26th, 2014, Subotica, elementary school "Matko Vuković"

KSO "Subotica" : OKI "Feniks"       0:3 (8:25; 23:25; 9:25)

The match lasted 33 minutes. It could be even shorter, but due to our excessive relaxation in the second set it could be considerably extended. This fact gave the hosts a glimmer of hope. But ... that's it. By the way, this sport hall has the best parquet floor for sitting volleyball compared to all places we played.
8th game, Novembar 2nd, 2014, Tovariševo, elementary school "Mileta Protić"

OKI "Feniks" : KSO "Smeč"           3:0 (25:20, 25:19, 25:11)

One game before the League's end the new champions were even theoreticaly confirmed, as we had 4 points more than Smeč. Certainly that fact isn't a reason not play this game at the highest level and to show who-is-who here.
And so it was. We held the advantage in every piece of the game, except at the very beginning of the third set. It was not a perfect match, but he played quite calm, responsibly and with enough desire to persevere. In addition, pursuant to the fact about the state of the League Table mentioned above, our opponents just did not show so much desire to compete, compared to our previous game in Belgrade.
At the closing ceremony, performed in the same hall, was attended by all participants. Competitors were greeted by OS OSI secretary Mr. Vilijam Maksimovic, and trophies & medals were awarded by the president Mr. Ilija Velemir.
After the title in 2009 and 2012, OKI "Feniks" is back on top of Serbia in 2014!
Champions of the Serbian League for 2014: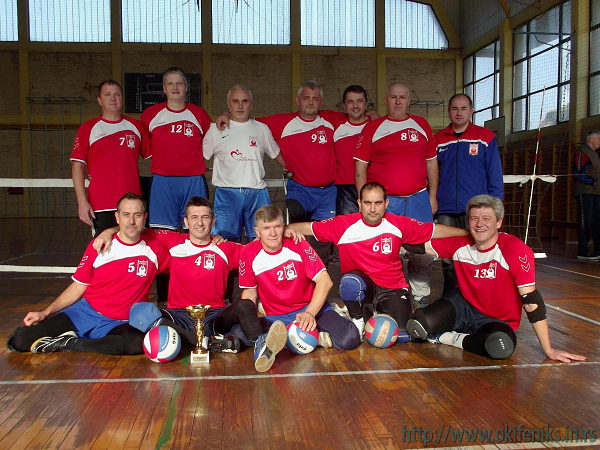 Standing and sitting: TEAM OF OKI "FENIKS"
PS. As I said, "I would prefer the most if I would be able to redirect you to see all the results and on the League's official final table ..." Finally, my wish came true at the end of the year. The official results were published and all bulletins are posted on the website OS OSI. The last, 8th Bulletin shows the final standings. (You can simply forget the previous settings at this place.)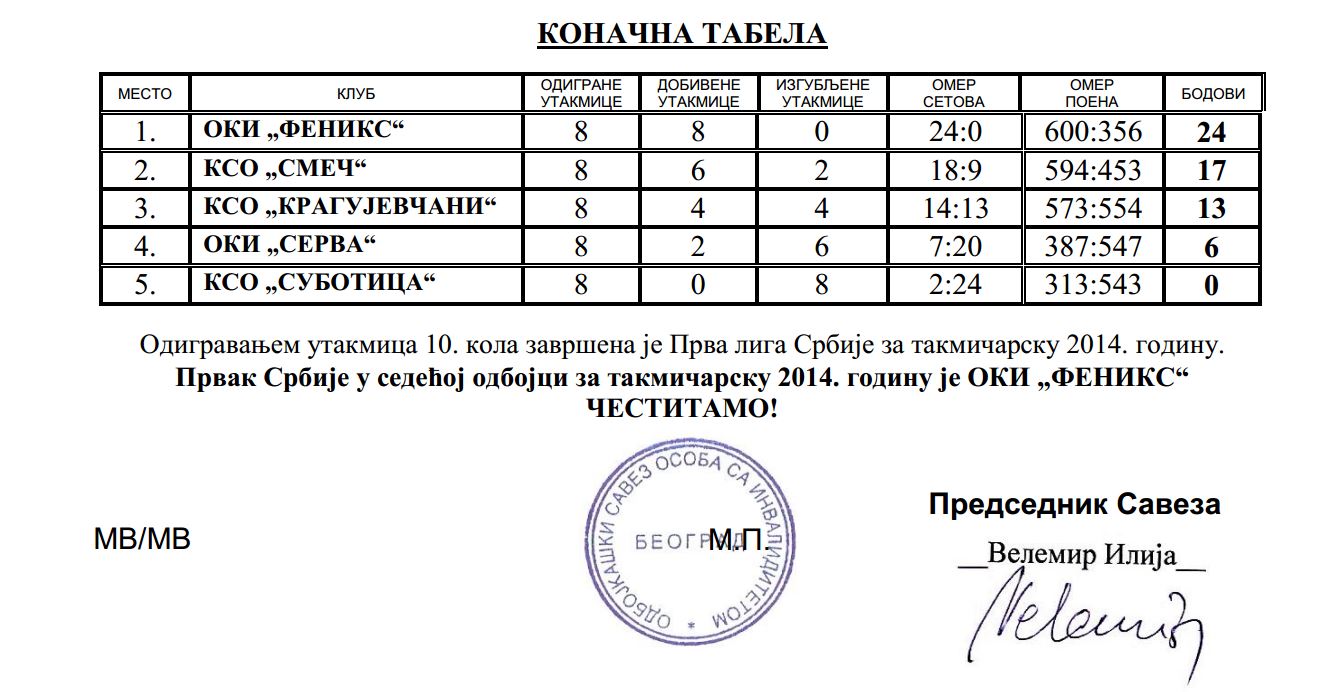 Finally, to finish everything correctly, the success should be celebrated in a manner befitting a champion! We give you just a few impressions from this amazing dinner, and leave the rest to your imagination.
From media:
OS OSI
RTV Rubin
rtv.rs
vesti.iz.rs
vrsacplus.com
naslovi.net