OKI "Feniks" Kikinda - News
"Banja Luka Open 2011"
X Jubilee International sitting volleyball tournament, 3rd December 2011
Sports hall "Obilićevo"
International day of disabled persons is the day that guys from Banja Luka reserved 10 years ago for organizing this tournament, and "Feniks" has become the part of this tradition since the tournament in 2009, 2010 and this year.
Our last tournament in year 2011 supposed to be the crown of this really successful season: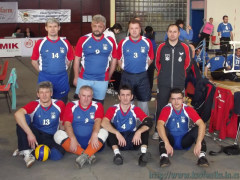 However, there was just that much missing for us to not to go to Banja Luka. Competitive completeness of the team was in question by unavailability of even 3 members of the first team, mainly due to their obligations in the workplace and, as it happens, it was determined only few days before departure. In addition, there is noting much to talk about our club treasury, because it is empty for months. With the hope that this reality is just temporary issue, the Club assembly decided to go in such a minimized composition, primarily in order to comply with our friends, the hosts of the tournament, and our given promise. The cost will be (again) submitted from our own pockets. Even after all possibilities were exhausted, in the van for the trip were not loaded "only" two team member - Herceg and Anđelov.
So we started not so sure of our ultimate limits and mourned the failure on the tournament in advance. In addition, our group was objectively more difficult to place in the battle for the third place, which outcome of matches are showing very good:
GROUP A

1. OKI "BANJA LUKA", Banja Luka, R.Srpska
2. KSO "SERVA", Bačka Palanka, Serbia
3. SDI "HRABRI", Zagreb, Croatia
4. MDI "NOVA GORICA", N. Gorica, Slovenia

GROUP B

1. IOK "ZAVIDOVIĆI" Zavidovići, FBiH
2. KSO "FENIKS", Kikinda, Serbia
3. OKI "KNEŽEVO", Kneževo, R.Srpska
4. OKI "DOBOJ", Doboj, R.Srpska

Like before, the games played within groups were obtained in two sets, and a final match and for the third place was obtained in three sets.
Results - Group A

1. SERVA - B.LUKA       0:2 (8:25, 8:25)
2. HRABRI - N.GORICA    2:0 (25-17, 25:20)
3. SERVA - HRABRI       0:2 (7:25, 13:25)
4. N.GORICA - B.LUKA    0:2 (7:25, 13:25)
5. B.LUKA - HRABRI      2:0 (25:13, 25:12)
6. N.GORICA - SERVA     2:1 (23:25, 25:15, 15:6)

Placement Group A

1. B.LUKA       6:0 6
2. HRABRI       4:2 4
3. N.GORICA     2:5 2
4. SERVA        1:6 0

Results - Group B

1. FENIKS - KNEŽEVO     1:2 (14:25: 25:15; 12:15)
2. KNEŽEVO - ZAVIDOVIĆI 0:2 (17:25; 17:25)
3. DOBOJ - FENIKS       1:2 (23:25; 25:16; 13:15)
4. ZAVIDOVIĆI - DOBOJ   2:0 (25:12; 25:11)
5. ZAVIDOVIĆI - FENIKS  2:0 (25:10; 25:16)
6. DOBOJ - KNEŽEVO      1:2 (17:25; 27:25; 8:15)

Placement Group B

1. ZAVIDOVIĆI   6:0 6
2. KNEŽEVO      4:4 4
3. FENIKS       3:5 2
4. DOBOJ        2:6 0

The only uncertain match in the group A is was irrelevant for the placement - the derby of the rear. In the group B all matches were interesting, tensed and uncertain, except those in which on one side was too strong team from Zavidovići.
Taking into consideration the objective what the final placement could look like - it is probably realistic. On the other hand, Feniks showed the will, fiercely fought, shoulder to shoulder with others and succeeded in a part to reach expectations even with this team.
B1. OKI "Kneževo" is a stable, well-coordinated team, which competes in the second league of the Republic of Srpska. Their level is available to us to count on a serious fight. So far, in our first participatoin to this tournament they were much more successful, the second time we were in front of them "for the chests", but we have never met in a direct match.
We started in the composition in which we have not played yet, not recognizing ourselves in the game and a great will made us to make a lot of impossible movements and ireasonable actions. It is costed us to easily loose the first set. In the second we have consolidated and returned to the opponent in the same manner.
The deciding set is always special and we kept it well until the change of sides, but the few of our mistakes were enough our opponent to realize the advantage. Eh...
B3. OKI "Doboj" is the third in the first division of R.Srpska. We have met with them so far only once, in one of our first tournaments, but long enough to say that the result is irrelevant. However, the team deserves respect, a club has nice tradition. Maybe we learned something from the previous match defeat or we just figured how much we can do, but we played this game very good. The two solid teams developed a battle in the field have where no one could have predict it's end. The fact that we used just the third (and the last) match point shows it very well.
B5. A meeting of the wounded David versus powerful Goliath - there is no need to waste words. We fought from the start to the finish, but what you can't do - you just can't.
It turns out that our first match - was crucial, as happened several times before. And that's the one for the appeal, although it was clear that we need the first two games for the secure pass for the battle for for third place. It could be achieved with a little more luck, a few points, at least one of missing players, a different schedule, ... anything!
For the first place:

BANJA LUKA - ZAVIDOVIĆI 0:3 (24:26, 24:26, 16:25)

These are the European ranked teams and in advance it was clear that they will meet in the finals. Almost during all the match was the point to point battle, and efforts of Banja Luka team to reach opponents advantage, but also they missed to seize one set ball. Congratulations on the win to Zavidovići team and to Banja Luka team for the great fight, but as well to hosts of this tournament - congrats for the excellent organization of the tournament.
For the third place:

HRABRI - KNEŽEVO 2:3 (21:25, 25:11, 23:25, 25:15, 8:15)

The story of OKI "Kneževo" was just told and SDI "Hrabri" are our well known rivals. Eeeh ...
Trophies for placements on "10th Banja Luka open" tournament were delivered in a relaxed atmosphere of "Golden Card" restaurant. On the occasion of the tournament jubilee were delivered apposite awards to loyal sponsors and to the teams that participated in each of the previous 10 tournaments. It happened that these were four top-placed teams. Awards and trophies were presented by Novak Grbić - the president, Zoran Ješić - team captain and Miodrag Bajić - representation player and the athlete of the year candidate for the 2011th in Republic Srpska.
Final Standings:

1. IOK "ZAVIDOVIĆI"
2. OKI "BANJA LUKA"
3. OKI "KNEŽEVO"
4. SDI "HRABRI"
5. KSO "FENIKS"
6. OKI "DOBOJ"
7. MDI "NOVA GORICA"
8. KSO "SERVA"

KSO "Feniks" at "Banja Luka Open 2011":

Standing: Marić, Đuričin, Setorić, trener Dragin
Sitting: Zavišin, Milošev, Brandić, Golijanin
Photos from tournament
Photos from this tournament are handling a little more other teams games, instead of ours, just because I suspected that something new should be included on this website. So, it is certainly not because I still have not learned to take photos while playing.