OKI "Feniks" -- Frequently Asked Questions
# IMPORTANT ANNOUNCEMENT
The New Serbian Legislation about the Sport from 2011 provides some different rules of organization compared to the past. That is why "Feniks", like all the other clubs in Serbia, had to take the necessary steps to comply their organization to that.

Obviously, our old name Sitting Volleyball Club "Feniks" does not give the direct idea to the reader that it is about a sport club for disabled persons.

It turned out that this kind of "readers" could be present among the structures that bring funding decisions for the club, which was directly and adversely affected to our status and relationships with structures that make the major decisions for us, despite our good results. This reason is more than strong enough to seize the opportunity and to apply the change of the club name in the new Statute which is in compliance with the new legislation.

KSO"Feniks" is deleted, and now shall contain: Volleyball Club for Disabled "Feniks", shortened in Serbian language - OKI "Feniks", (OKI is the acronym commonly used in many centers in Bosnia, Croatia and R.Srpska).

The decision was made on the unanimous vote of the Assembly of the Club in January 2012.

Normal consequences of changes to the club name were logo changes, e-mail address, even the web address, and some other trifles. In the future we will do our best not to produce any negative consequences for those who have not yet heard about this. E-mail messages will be automatically forwarded to the new g-mail address: [okifeniks AT gmail.com].

Now you are familiar with the news, so please, enter these new addresses in your e-mail address book and to your Favourites.

Thanks in advance.

OKI "Feniks", January 2012.
# How come that sitting volleyball started to be played in Serbia (again)?
Why is this happening in Kikinda?
Who started this story?
You can find answers on page http://www.ssisrbije.org/london.html.
We are sorry, but this page is not translated to English. So, we will tell it in few words: here are few guys who played this sport for the representation of the former Yugoslavia and won medals on the World & European Championships in early '80s.
# What are the differences in the game rules compared to the "standing" volleyball?
We wrote about it on the page Game rules.
# What were the main successes of ex-Yugoslavia in this sport?
At the European Championships:
5th place in year 1981
2nd place in year 1985 *
At the World Championships:
5th place in year 1983
2nd place in year 1985
4th place in year 1986
3rd place in year 1990 *
At the Paralympics:
5th place in year 1984
4th place in year 1988
Some other comments can be found in the Report from the seminar in Kanizsa, 2008. This seminar was the first incentive of all that we are doing now. (Sorry, Bulletin pages are in Serbian only). Also, there are answers to questions about technique and tactics in sitting volleyball.
# What about technics and tactics in sitting volley? Does Feniks work on anything new?
Yes, of course. Our tireless coach continuously monitors developments in this sport in the world and passes it on to our trainings. And so happens that our "Mourinho" make us to drain hectoliters of sweat on our trainings :(
In addition to participation to the mentioned seminar in Kanizsa, our prominent members took part in the sitting volleyball camp, held under the auspices of the SSIS in Golubac July 2009. and the Sitting volleyball camp in Banja Luka, as the guests of representation of RS, in July 2010. In the following years Brandić became a regular on camp in Banja Luka and Čelinac together with the coach Dragin, who eventually becomes a serious candidate for the national team selector.
We especially emphasize the fact that our captain has been invited to a preparatory tournament of Serbia for the World Cup in Oklahoma 2010th
The participants of this tournament feature in Szeged were of Serbia, Hungary, Croatia and England.
# What are the biggest sucsseses of "Feniks"?
As the answer to this, we would empahasize following:
Champions of Serbia 2009 and in 2011/12
Champions of Vojvodina in 2010, 2011, 2012 and 2013
Champions of 1st i 2nd SIKE cup in Szeged 2009 and 2010
The fourth place on Championship of Hungaria 2010 in our first season
Champions at International tournament in Bačka Palanka.
The third place on Championship of Hungaria 2011
Vice Champions at "Verba Laszlo 2011" in Szeged
First place on ParaGames Breda, Netherlands, 2011
Second place on The Hungarian Cup, Tatabánya 2012
Second place in the 1st League of R.Srpska 2012/13
The third place on The Hungarian Cup, Vác, 2014

We are proud to have organized international tournaments "Kup Kikinde" since year of 2009 , as well as the Serbian Championship in year 2010.
# Where did "Fenikses" played their matches by now?
Since establishing th club in 2008, we played in following cities:
Serbia: Kikinda, Belgrade, Novi Sad, Subotica, Zrenjanin, Bačka Palanka, Kragujevac
BiH: Sarajevo, Zavidovići, Tuzla, Brčko
R. Srpska - Banja Luka, Bijeljina, Prijedor, Derventa
Hungary - Szeged, Sandorfalva, Nyiregyháza, Vác, Tatabánya, Szombathely, Budapest
Netherlands - Breda (not on the map)
...
...and we had some other places in our plans.
Look at the map: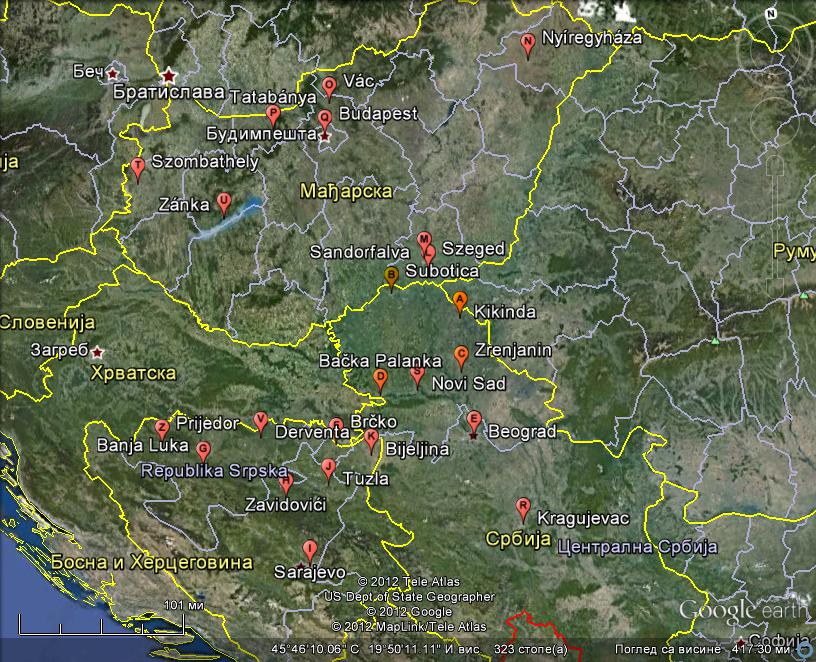 And if you use Google Earth, download KMZ file which shows all those places!
(Note: when you double-click the file, Google Earth will open with all those places shown at the map.)
# Who are Feniks players?
1. Milan Živić - founder of the club, won the silver medal at the European Championship 1985 with the representation of former SFRY
2. Dragoslav Đuričin - founder, the president, won the bronze medal at the World Championship 1990 with the representation of former SFRY
3. Dragiša Brandić - team captain, member of the national team of Serbia
4. Mile Marić - without sporting career
5. Nikola Milošev - without sporting career
6. Milan Subin - without sporting career
7. Ivan Šibul - secretary of the Union of disabled of Kikinda, football referee
8. Dragan Selak - without sporting career
9. Aleksandar Budurin - former waterpolo player
10. Valter Setorić - versatile athlete in competitions for disabled persons: athletic disciplines, shooting, fishing, and of course, sitting volleyball
11. Milan Pajitin - former volleyball player
12. Dušan Čagalj - without sporting career
13. Igor Golijanin - former volleyball player and National referee
14. Mirko Tegeltija - former volleyball player in Doboj, now resident in Novi Sad
15. Sanela (Dražić) Terzin - former volleyball player, a librarian of "Feniks" and the best player of the tournament in Banja Luka Open 2009
16. Andrija Budinčić - former volleyball player
17. Andrej Herceg - rich, but informal sports career in the "standing" volley
18. Dragoje Janjatović - without sporting career
19. Željko Anđelov - former volleyball player and Regional referee
20. Zoran Zavišin - former volleyball player and National referee (also: the modest editor of this site)
21. Branislav Dragin - former volleyball player, Regional referee and coach. He works as a coach in Feniks, but very occasionaly he sits down and plays with us, too
22. Dragan Danijel - without sporting career
23. Milan Vlajkov - former volleyball player of OK "Vojvodina"
24. Milan Mihaljčić - former volleyball player
25. "Unknown" player...
...here you can find your name, if you wish!
You only need to contact us!
Another thing, though, we did not checked: it is very likely that we are the first club in the number of certified referees among the players!
# How many of these players are (not) disabled?
Ratio of the number of active players in the team structure is somewhat larger than 2:1 in favor of players with disabilities.
# Can I really join and play?
Yes, of course! All athletes of good will we sincerely welcome.
Massification of the sport in our town and country is one of the enduring tasks of the club.
On the page About Us you will find the following:
The main goals of "Feniks" are developing, improving the game and growing the number of players, encouraging disabled persons, as well as the others, to play sitting volley, encouradging the organisation of regular Serbian competition, collaboration with other clubs and organisations attending the same sport and all other organisations who can, will & want to contribute the development and improvement of sitting volleyball.
If you did not find something that interests you, please, send us your question to [okifeniks AT gmail.com]. We will be happy to give you the right answer.
# When and where do we hold our trainings?
Trainings are held on Tuesdays and Thursdays from 8:30 pm and Saturdays from 6.30 pm. Place of trainings is here!
# Who is our coach and is he qualified?
We had very good luck in choosing a coach. Branislav Dragin, nicknamed Baja (pronounced "baya") and "Mourinho" had a decades of work and experiences in the volleyball sport, and from all aspects: as a player, a referee and a coach. He is a lover of volleyball and deals with her since his childhood. He gained coaching diploma and degree from the Belgrade Faculty, as a student of the famous professor Nešić. During years with great successes working with the younger age groups in the OK "Kikinda", for children and parents, he was a favorite coach. Soon after the club establishment he accepted the work in "Feniks". Baja carefully follows developments in the field of technique, tactics, game modes and trainings in Europe and in the world. Only, in the sport which he was up to deal with, he added the prefix - "sitting"
# Why is quality of the photos on the site so variable?
Photographs were all made by ourselves with the help of our friends. Tournaments are different, conditions of travel are very different, and therefore the possibility of the presence of photographers who still have different levels of skills and different capabilities of their cameras. Quite significantly is a skill in dealing with various adverse lighting in sport halls with low, morning, bright sunlight. On the other hand there is a photo-reporters' limiting Bon-Ton factor, which requires avoiding the use of flash during the game. From the collected photos, we are selecting the best, typical, interesting photos, but we are sometimes forced to drop down the criteria because there is not much to choose from. Sometimes it hits that everything is OK, and then there is a significant number of high the quality photos.
So - we are inviting you to be our photographer! Send us interesting pictures from the tournaments. Thanks in advance!
# And... in the end - why the name "Feniks"? And what does it means the logo of "Feniks"?
Well... if you read previous Q's and A's carefully, you would know what it means, but still, this answer is offered in the first paragraph of description of this bird at Wikipedia.
Rinasce piu gloriosa!